Dundee: Birmingham City target Greg Stewart 'impossible to replace'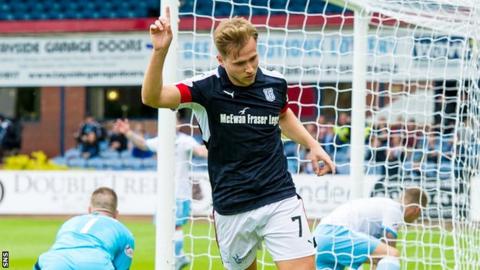 Dundee manager says Birmingham City target Greg Stewart would be impossible to replace should the striker be sold.
Strike partner Kane Hemmings was sold last week after Oxford United triggered a release clause in his contract.
Stewart does not have a similar deal, but the 26-year-old has entered the final year of his current contract.
"I don't think we can replace Greg Stewart," Hartley told BBC Scotland. "Hopefully we can keep him for another year, but you never know."
Birmingham had Stewart watched on Saturday as he scored a double in the 7-0 Scottish League Cup thrashing of League Two outfit Forfar Athletic.
It took the Scot, who was on the shortlist for the PFA Scotland player of the year award last season, to six goals in three games this term.
"It is another sublime performance and he is just a joy to watch sometimes," said Hartley.
"I thought he was unplayable today - the same last week, same in midweek.
"When you've got a player like that, you just enjoy him while you can.
"He is a pleasure to watch and a pleasure to work with also. He is a great lad, we're thankful we've got him.
"He is our best player. He creates, he scores goals. I think he's got something like 32 goals in 83 games from a wide position, which is a terrific record.
"Not many wide players can do that and I think he is getting better and better."
Hartley would prefer to keep Stewart for another season even if it would mean the player leaving next summer as a free agent.
"For two years, he's probably been one of the best players in Scotland," said the manager.
"I want to keep our best players here for as long as possible, but it is not always possible.
"He's a player we want to keep, but we have to be realistic also. The player has ambitions.
"Two years ago, nobody had heard of him, we took him from Cowdenbeath as my first signing and look at the value we've got out of him."
Englishman Hemmings, who had also been Stewart's strike partner at Central Park, only stuck around for a year after last summer's release by Barnsley.
"They met the clause," Hartley said of Oxford's offer. "The player indicated he wanted to move nearer his family and it was an offer he couldn't refuse.
"We wanted to keep him, but he said he wanted another opportunity down there and, financially, we couldn't compete.
"We wouldn't have got Kane if there was not the clause in the contract in the first place."