Clyde 'could stay at Broadwood Stadium' but consider three alternatives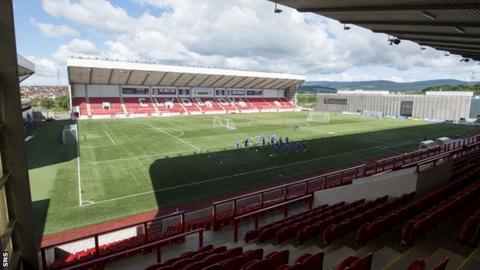 Clyde are considering three new sites for a stadium but say the prospects of the Scottish League Two club staying in Cumbernauld have increased.
The Bully Wee had looked into alternatives because they were unhappy about arrangements with their landlord, North Lanarkshire Leisure.
"The club recently began positive negotiations with North Lanarkshire Leisure," say the club.
"The recent change of leadership at NLL has brought a change of approach."
Clyde said in a website statement that this had "returned Broadwood Stadium to being a very serious contender for our permanent home".
"The club's vision has been enthusiastically welcomed and a number of actions have shown significant goodwill towards the club," the Scottish League Two club stated.
"If a sustainable business and community model can be established at Broadwood then there would be no need to leave an excellent stadium, which can rightly claim to be a developing and vibrant sporting community hub."
Clyde were responding to a newspaper article giving details about one of their alternative sites, near their previous home in Rutherglen.
The Bully Wee played at Shawfield Stadium from 1898 until 1991 until they were evicted from the greyhound arena and shared with Partick Thistle and Hamilton Academical until Broadwood was finished three years later.
"We can confirm that we have engaged in exploratory talks with Clyde Gateway, the owners of Cuningar Loop, about the building of a purpose-built stadium designed for extensive community use," they said.
"We have a long way to go here as the site is not without its issues and having the right partners is essential when dealing with a major site that is contaminated and requires remediation and subsequent construction."
Clyde say they have also had discussions about "an existing stadium that has no current senior or junior activity" and another site "where a complete new-build purpose-built stadium and community hub would be constructed".
"We can confirm that we have not had any involvement with the redevelopment of the Shettleston Juniors ground for some time and that site does not feature in any of the above," they added.