Gonzalo Higuain: Juventus striker aims to prove value after £75.3m transfer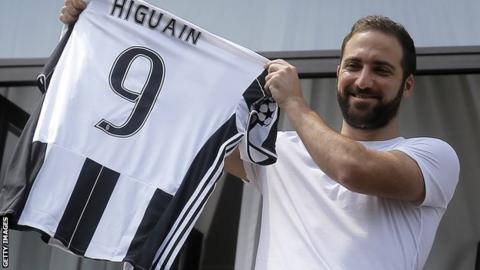 Juventus striker Gonzalo Higuain has said he wants to prove his value to the club after his £75.3m transfer from Napoli.
Higuain, 28, signed a five-year deal on Tuesday to complete the third most expensive transfer of all time.
The Argentina international said: "Now I need to show to them that I am worth the money they paid for me.
"What can you say about Juventus, they are known all over the world. It is a great team that has it all to gain."
Higuain won the Capocannoniere - Serie A's golden boot - last season after scoring a league record-equalling 36 goals as Napoli finished runners-up to his new club.
His departure angered Napoli owner Aurelio De Laurentiis, who called Higuain's exit "a betrayal".
The former Real Madrid forward has defended his decision to join the Bianconeri.
"Relations with him [De Laurentiis] never went well because his way of thinking is at odds with my way of thinking," added Higuain.
"I chose to join Juventus but he pushed me to do it. Now, I'm really happy I did and I want to thank Juventus for the effort they made to come and get me."