Jeremie Cup: Jersey champions St Paul's return after two-year break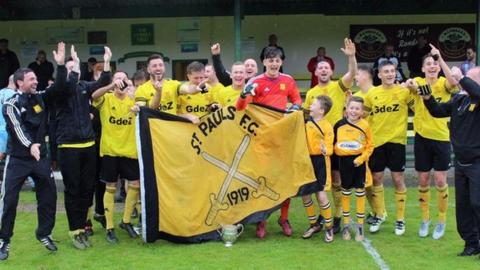 Jersey and Channel Island champions St Paul's will enter the Jeremie Cup for the first time in three seasons.
The 2013-14 champions were not invited to enter last season, having pulled out of the tournament in 2014-15.
Jersey Scottish, the island's second-best team, are not involved having withdrawn from the event last year because of travel costs.
The Guernsey FA-run competition sees the top four Jersey sides take on teams from the Guernsey Priaulx league.
Jersey side St Ouen won the title for the first time in May and will face either Priaulx League runners-up Rovers or newcomers Manzur in the quarter-finals, while St Paul's will meet either Vale Rec or Sylvans.
Jeremie Cup first round
Northerners v Belgrave Wanderers
Vale Recreation v Sylvans
St . Martin's v Rangers
Manzur v Rovers
Quarter-finals
Vale Recreation v Sylvans v St .Paul's
Northerners v Belgrave Wanderers v St . Peter
St . Martin's v Rangers v Rozel Rovers
Manzur v Rovers v St. Ouen
Semi-finals
Northerners, Belgrave Wanderers or St . Peter v St . Martin's, Rangers or Rozel Rovers
Manzur, Rovers or St. Ouen v Vale Recreation, Sylvans or St .Paul's