Coventry City: Romain Vincelot sale was in club's best interests, says Tony Mowbray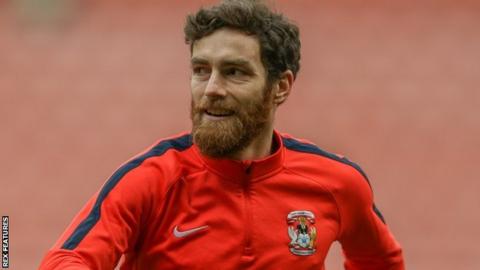 Coventry City manager Tony Mowbray says supporters have to trust him that selling midfielder Romain Vincelot was in the best interests of the club.
The Sky Blues sold Vincelot, 30, to League One rivals Bradford City for an undisclosed fee after one season at the Ricoh Arena.
"We're losing a very talented player but I just want to freshen it up really," Mowbray, 52, said.
"Sometimes you have to sell an asset to build an asset."
Mowbray acknowledged that selling the popular Frenchman was not universally liked by the club's fans but is adamant the long-term plan at Coventry must be kept in mind.
"It was my decision. I pushed the button on it. I talked it through with Romain and it's right for me to try and take the cub forward in the way I want," Mowbray told BBC Coventry and Warwickshire.
"When you make really tough decisions, it doesn't seem like the right one and there's anger.
"But the supporters have to trust me that I'm doing it for the benefits for the club and to bring us success - that can't be overnight and sometimes you have to make hard decisions."
Vincelot cash will be re-used
Crucially, Mowbray is sure the money raised from Vincelot's move will be put back into the transfer kitty.
He said: "There's been occasions in the past that sales haven't been reinvested.
"But I'm pretty sure in my mind with the trust I have with the board that we have an understanding that we can reinvest in the team.
"So, if we have to pay a small fee for a player that will be crucial to taking the club forward, we can.
"You have to put a foundation in. I'm managing Coventry City like I'm going to be here for 10 years.
"I might be here three months if I don't win any matches, but the job is to make the club better and I'm trying to do that."