Gary Johnson: Cheltenham Town looking to add defender and keeper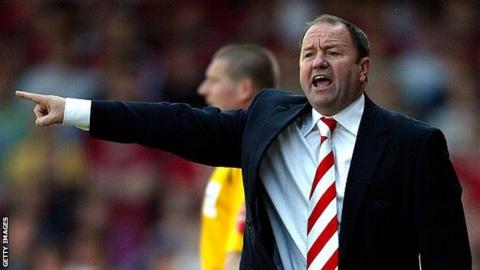 Cheltenham Town manager Gary Johnson is still looking to add to his squad before the start of the club's first season back in the Football League.
"I've just got to keep looking for another centre-back and a goalkeeper", he told BBC Radio Gloucestershire after Monday's friendly against Bristol City.
Johnson confirmed, however, that Charlton keeper Dillon Phillips will not return to Cheltenham in 2016-17.
Phillips, 21, made 37 appearances for the Robins while on loan last term.
"I'm gutted for Dillon because he really did want to come back," Johnson said.
"I'm disappointed that Charlton haven't looked at it as a good thing for him to get Football League experience."
On his search for a centre-back, he added: "If we don't get a right-sided centre-back in time, then I can play four at the back.
"You do need to play a couple of systems because teams have got all your footage of all your games."
Cheltenham, who were promoted from the National League last term, play their opening League Two match at home to Leyton Orient on 6 August.