SPFL: Tighter regulations on fan behaviour & board changes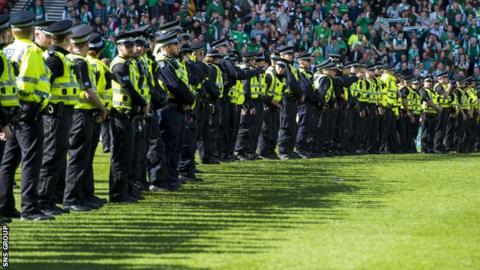 Scottish Professional Football League clubs have agreed to accept more responsibility for fan behaviour.
A resolution was passed at the annual general meeting at Hampden to tighten up the current regulations.
It falls short of adopting Uefa's strict liability rules, which justice minister Michael Matheson called for after the Scottish Cup final disorder.
"We've seen that strict liability doesn't work," said SPFL chief executive Neil Doncaster.
"The rules have been strengthened."
Matheson addressed clubs at the Scottish Football Association's AGM last month and said the "Scottish government is prepared to act if Scottish football isn't".
Following the pitch invasion at Hampden after Hibernian's 3-2 Scottish Cup final win over Rangers in May, Matheson told the SFA AGM that clubs needed to address fan behaviour with "strict liability or a form of strict liability", which sees clubs held responsible for the behaviour of their fans at games and has seen Scottish teams fined by Uefa in the past.
"Clubs approved changes to the rules in terms of liability in relation to unacceptable conduct," Doncaster said. "Those mirror the changes that were agreed at the Scottish FA AGM.
"There will be more of an onus on clubs to identify those engaging in unacceptable conduct at matches and deal with them appropriately.
"We've got a good relationship with the government and we're working with them to address the issues that are there.
"We have a continuing dialogue over a number of issues, this is just one, and I'm sure they'll welcome the changes agreed by the clubs and it's part of a process of addressing that small minority of fans who engage in unacceptable conduct.
"It's import ant that we continue to work with government. There's a willingness on both sides to work together."
'Fresh thinking'
New directors were also appointed to the SPFL board, with Celtic chief executive Peter Lawwell replacing the club's former finance director Eric Riley, while Hearts' Ann Budge, Partick Thistle's Ian Maxwell, and Hibs' Leeann Dempster joined Raith Rovers' Eric Drsydale and Brechin City's Ken Ferguson, who were returned.
"Communication is a big thing for me, so I'll be focusing on making sure that we communicate transparently and openly wherever we can," Budge said.
"There are some quick wins that we can have if we stand back and think, 'hang on a minute we're in 2016, we can do things better'.
"We have a number of new faces and hopefully that will bring some fresh thinking and maybe a different approach to things.
"My only frustration is understanding why we make certain decisions. It's a challenge, there are a lot of different organisations within Scottish football."
Dundee United chairman Stephen Thompson lost out to Dempster and Drysdale in the vote to represent the Championship on the board but said that would allow him to concentrate fully on his club's bid to return to the Premiership following relegation.
"The clubs maybe want change, it's up to them," he said. "I'm fine and I'm focused on other things now anyway."