Paul Tisdale: Exeter City manager pleased with continuity at St James Park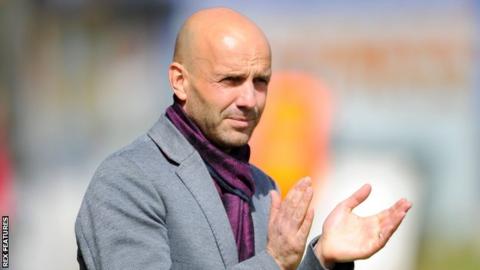 Exeter City manager Paul Tisdale says pre-season at the League Two club has been "quite relaxed" because there have not been too many changes to his squad.
They have lost nine players from last term and added four, with a further four academy graduates being promoted.
"We've got one or two things to focus on when normally there's a lot more, which is nice for me," Tisdale said.
"I'm starting not with the task of trying out new things or having to give too much information to the squad."
After Arsenal boss Arsene Wenger, Tisdale is the longest-serving manager in English professional football.
The 43-year-old has signed Robbie Simpson, Liam McAlinden and Lloyd James this summer, while Troy Archibald-Henville has rejoined the club.
"It does feel like quite a relaxed, but also straightforward pre-season," added Tisdale to BBC Radio Devon.
"We've had 18 months of knowing what's coming next, so as a manager I can plan more than the normal six months in advance - I've been able to plan a year or two.
"We've probably got eight, nine or 10 players starting the season who were involved at the end of last year - it's going to be very much the same and we've got a nice balance to what we're doing."