BBC Sport - Stephen Baxter praises his Crusaders players after Copenhagen hammering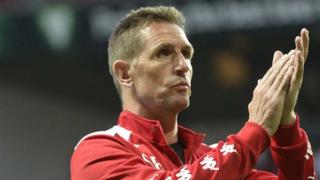 Baxter praises Crues despite Danish drubbing
Crusaders manager Stephen Baxter says his players "gave their all" in Tuesday's 6-0 Champions League second leg defeat by FC Copenhagen as the Danish club completed a 9-0 aggregate success.
"I've just congratulated the team on a great effort," said the Crusaders boss.
"I said after the first leg they might have been 10 grades above us and they might have been 12 grades above us tonight because they just mauled us and passed it so well.
"Our lads gave everything they had and for our part-time game of football, we acquitted ourselves quite well.
"Copenhagen beat Manchester United 1-0 here and drew 1-1 with Barcelona here a couple of years ago."