Norman Smurthwaite: Port Vale chairman wants League One top-six challenge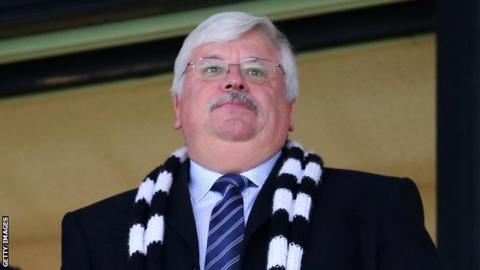 Port Vale chairman Norman Smurthwaite says he expects the club to be in the top six in League One by Christmas after heavy investment in new players.
Smurthwaite has so far sanctioned 11 signings for new boss Bruno Ribeiro as Vale target a challenge for promotion to the Championship in 2016-17.
Smurthwaite told BBC Radio Stoke: "I would not have put a large amount of money in to be mid-table mediocre."
Vale finished 12th last season, nine points outside the play-off places.
Although so many new faces may take time to gel, Smurthwaite is confident Vale have the quality to be promotion contenders.
"This is not a trial, we've signed these players for quite a long time," he said.
"If I wasn't committed and didn't think Bruno was committed, we wouldn't have given most of them two-year contracts - so I'm expecting the players return that by demonstrating to me and the fans that they're here to do that job."
'Premier League calibre' signings on the way
The revolution under Ribeiro is set to continue, with Smurthwaite revealing the number of new recruits will rise further.
"Two more are coming who are international players," he said.
"There are three different clubs coming in with loan players of a Premier League calibre - but I'm not sure we need them now.
"That said, if they come along with the calibre of players I understand are being offered then this is an exercise in redemption as far as I'm concerned - to show the fans I'm going to deliver."
Plan B warning
Smurthwaite was so angry by the manner of their FA Cup second-round exit to Exeter City last season, a result that deprived Vale of vital finances, that he put the club up for sale.
Although he would not elaborate on specifics, a contingency plan is forming in his mind should the team struggle to meet his expectations.
"I have Plan B at Christmas if we're not in the top six," Smurthwaite said.
"I will never allow another Exeter - to be told by a manager 'that's just football' and to accept it.
"That's not going to happen at Port Vale because if it does, Plan B will be round the corner - I'm hoping I won't have to exercise that veto."