Paul Le Guen, Tom Saintfiet & Salisu Yusuf on Nigeria coach shortlist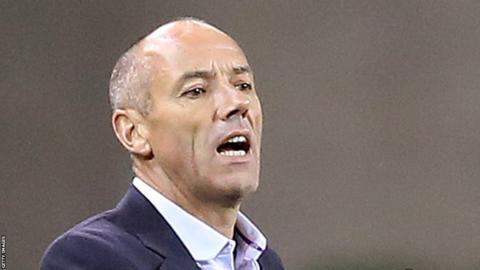 Former Cameroon coach Paul Le Guen, Tom Saintfiet and Salisu Yusuf are the candidates to be the new Nigeria coach.
The 52-year-old Frenchman Le Guen qualified the Indomitable Lions for the 2010 World Cup finals.
The Nigerian Football Federation revealed it had received over 20 applications for the post, which they narrowed down to the shortlist.
It also said it would interview the trio on Monday 18 July and "immediately name the next Super Eagles coach".
Belgian Saintfiet, 43, has extensive experience at African national team level, having led Namibia, Zimbabwe, Ethiopia, Malawi and Togo.
Current Nigeria caretaker coach Yusuf, 54, led the team to two friendly wins against Mali and Luxembourg in May.
Chairman of the Technical and Development Committee, Chris Green, told the NFF website: "We set a criteria with which we evaluated the nearly two dozen applications and then agreed on the three persons that we shortlisted.
"The Committee will meet on Monday 18 July 2016 to interview the shortlisted candidates and immediately name the next Super Eagles Head Coach."