Truro City: 'No panic stations' over depleted squad - Lee Hodges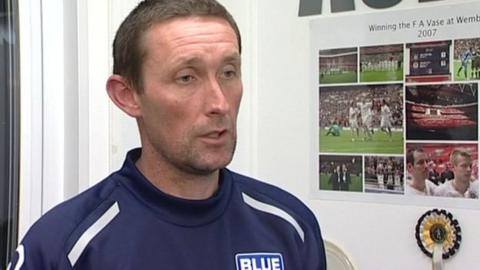 Truro City boss Lee Hodges insists he is not panicking despite only having 13 first-team players for the new season.
City, who finished fourth in the National League South last season, but lost in the play-offs, are seeking to add to their depleted squad.
"We've not got enough at the moment. We have about 13 signed up so we're going to need to add to that," Hodges told BBC Radio Cornwall.
"We definitely need a new goalie because I've only got one.
He continued: "I have a back four but that is it, so I'm going to need another defender.
"There's no panic stations yet - we're just getting the boys settled in again and getting them into a routine and we'll add when we feel we're ready to do that."
Hodges, who replaced Steve Tully in June for a second spell as Truro manager, believes the experience of his number two Rory Fallon will be invaluable for his young squad.
He added: "First time around when I was player-manager you have to go out and play and help them on the pitch as much as off it, so It's an opportunity for Rory to take on responsibility.
"I can huff and puff from the sidelines but Rory's in the thick of things and sometimes you see things differently and he can help them on the pitch, so it's good to have him on board."