Newcastle United: Rafael Benitez wants strong team spirit with new signings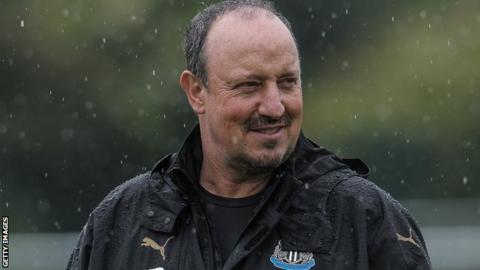 Newcastle United manager Rafael Benitez thinks the club's new signings are key to a Premier League return.
The Spaniard brought in Matt Ritchie and Dwight Gayle following Andros Townsend's £13m move to Crystal Palace.
Despite Townsend's departure, Benitez is still confident of keeping players such as Moussa Sissoko, who has helped France to the Euro 2016 semi-finals.
"We are bringing new additions and I think that will be good for the team spirit," the 56-year-old said.
He continued: "I am in contact with Moussa - hopefully France will go to the final, he can win the final, come back and win with Newcastle.
"Andros, because he had the escape clause, he was thinking about that too much. He wanted to play in the Premier League and we knew that."
Despite Newcastle being relegated to the Championship for the first time in six years, Benitez hopes his new signings will put them in a strong position.
"We are trying to do things in a different way that maybe could help to improve things," he added.
"We know that we have to concentrate on a different competition and different clubs and it will be very tough."