BBC Sport - Euro 2016: The Wales team is the star, not me - Gareth Bale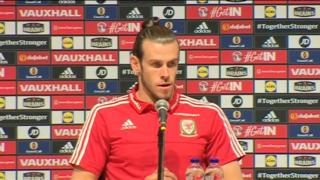 The team is the star, not me - Bale
There are no stars in the Wales team preparing for the Euro 2016 semi-final against Portugal on Wednesday - just a good team, says forward Gareth Bale.
Watch: Wales beat Belgium 3-1 to reach the Euro 2016 semi-final.
Listen to Wales v Portugal on BBC Radio Wales, BBC Radio Five Live, in Welsh on BBC Radio Cymru and Online at the BBC Sport Website, 20:00 BST, Wednesday, 6 July.