Guernsey FC could bring in loan players to solve away problems - Tony Vance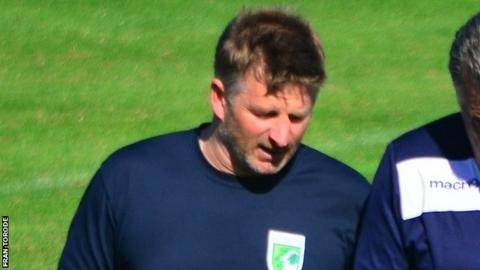 Guernsey FC boss Tony Vance could bring in loan players to help his side's poor away form, if he cannot find a solution to their ongoing travel problems.
The Green Lions won just five away games last season, losing 15, but 16 of their 23 league games at home ended in victories.
Guernsey could only raise a squad of 12 for their final away game last season, a 4-0 loss at Dorking Wanderers.
Club rules preclude signing players unless they are based on the island.
"If the league was decided on home form we'd have been second," Vance told BBC Sport.
"Year on year we're very good at that, so that means we've got the players.
"If we can work out how we can get them to travel, and have a consistent group, then there's your answer. That's my first challenge and what I really want to put our resource into.
"But failing that there are answers - there's the possibility that we could loan players like other clubs do."
He continued: "When we play these teams in the Ryman League we often turn up and they've signed six or seven players for that week.
"There's no reason why we couldn't do that, but that's where it gets dangerous from a team perspective."