Cameroon defender Nicolas Nkoulou joins Lyon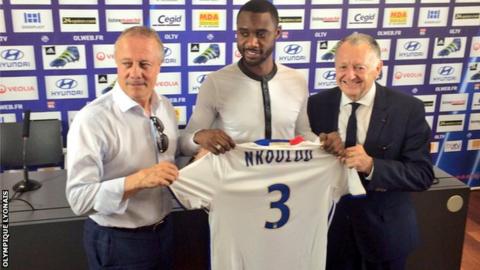 Cameroon defender Nicolas Nkoulou has signed a four-year deal with French Ligue 1 side Lyon.
The 26-year-old signs after his contract with Lyon's French rivals Marseille came to an end at the end of the season.
Nkoulou admitted that he has also held discussions with Italian Serie A side Roma.
"I was in advanced talks with AS Roma but I do not regret my choice," he said.
"I come with a lot of ambition and pride. I'm here because Lyon will allow me to grow and move forward
"Five years ago I chose Marseille rather than Lyon because of [the then coach] Didier Deschamps - but now destiny wants our paths to cross again and that's important.
"I need to feel loved and wanted and that's the case here in Lyon."
Meanwhile Nigerian striker Dickson Nwakaeme has signed a season-long deal with another French club - Angers.
The 30-year-old joins after spending three seasons with Malaysian side Pahang.