Euro 2016: Gordon Smith feels justified in decision to enlarge finals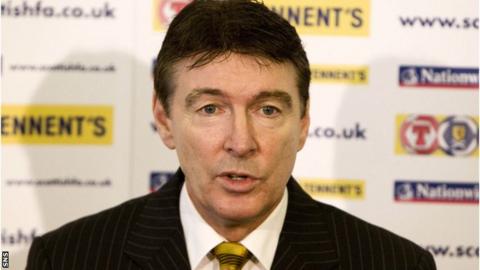 Gordon Smith believes the dramas of Euro 2016 in France have vindicated the decision to expand the tournament.
Smith supported the move to increase to 24 the teams competing in the finals when he was chief executive of the Scottish Football Association.
The idea had been proposed by his predecessor, David Taylor, while he was general secretary of Uefa.
"I was very much involved with pushing it. David Taylor and I spoke it about it when he was at Uefa," he said.
"He'd had the idea of increasing the tournament and he approached me to see if I'd be willing to push the SFA's case towards that.
"I said I would, for two reasons: we'd have more chance of qualifying if there were 24 teams and I felt that, during the qualifying rounds, there would be more meaningful matches.
"That's why it's been so disappointing that we haven't made it, although the three teams from our group that went through have done pretty well.
"Our fight would have been to get out the group. But, of the six groups, four of the third-placed teams managed to get through, so it was an opportunity. That's what's made the tournament so exciting.
"We saw the situation even in our group where we were within minutes in the last game where it was still open. We were playing against Poland while the Republic of Ireland and Germany were drawing in Ireland.
"Then it all turned around when Ireland scored and we lost a goal. Even in this tournament, it's made it really good the fact that there are more teams and the way they've structured it.
"In previous tournaments, you always found that there was a third game in the group that was meaningless and that wasn't the case this year, the group games were all meaningful. Now, in the knockout stage, that's going to continue."
'Scotland have a tendency to throw it all away'
Smith insists that Scotland have the quality of players to follow the examples of Wales, Northern Ireland and the Republic of Ireland to qualify for a major international tournament.
He also believes that youth development in Scotland is producing a good enough standard of player to supply future internationals.
"We underplayed in some respects because we have the players," Smith said of the qualifying campaign.
"Take Northern Ireland, who have done fantastically well and deserve all the credit, but I would still look at their squad and say, if we picked our best team and then had to decide who to leave out for one of the Northern Ireland players, I'd be struggling to find who to leave out.
"The qualifying campaign was quite decent, to a certain extent, but it was down to the Georgia result and we've got a tendency to do that at times - just throw it away with one bad performance.
"Although we performed well against the bigger teams, we didn't pick up enough points against them, which is where we let ourselves down, but we were competing in the big games.
"We're not doing anything wrong in terms of developing players - there are thousands of kids attached to clubs in Scotland.
"It's down to getting the right coaching, the right development and making sure the kids have the right mentality to go forward.
"We should be performing in a tournament like the one in France now with the players we have currently."