Kameni fears for a sports complex started by the late Marc Vivien Foe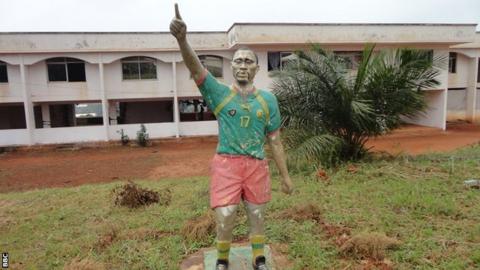 Cameroon and Malaga goalkeeper Idriss Carlos Kameni says it is going to be difficult to salvage a sporting complex started by his late compatriot Marc-Vivien Foe.
Foe collapsed and died 13 years ago on Sunday during a Confederations Cup semi-final against Columbia in France.
And it seems his dream of giving young Cameroonians the opportunity to play football may have died with him.
A sporting complex he began building on the outskirts of Yaoundé lies in ruins.
There has been no progress at on the site where Foe is buried despite the promises made by authorities 13 years ago.
Marc-Vivien Foe factfile:
Born: 1 May 1975 in Yaounde, Cameroon
International: 64 caps and 8 goals for Cameroon. Won African Cup of Nations in 2000 and 2002
Position: Midfield
Did you know? Man Utd almost signed him in 1998, but he broke his leg. Portsmouth manager Harry Redknapp had faxed an offer for him on morning of day he died
Clubs: Canon Yaoundé (1991-94), Lens (1994-99), West Ham (1999-2000), Lyon (2000-), Man City (2002-03 on loan)
Died: 26 June 2003, after collapsing in 73rd minute of Confederations Cup semi-final
A family disagreement means his dream has never been fulfilled and Kameni feels only Foe's relatives can ensure the project is completed.
"It would be difficult for footballers to salvage the complex as this is a family affair rather than a sporting issue and we cannot do anything much," Kameni told BBC Sport.
"It is for the family to resolve its problems."
Kameni, who was launching his own annual charity tour, paid tribute to both his former team-mate Foe and Patrick Ekeng, who passed away in May in Romania in similar circumstances.
"Marco [Foe] was like an elder brother and played that role very well. I still ask myself where we found the the energy to play the final in 2003," he said.
"We played a superb final against France and were unlucky to concede - but during the game we thought of Marco, the fighter, the big footballer, this was our source of motivation for the game.
"He was someone who talked less but said the right words - it was difficult to have problems with him. We had great times together and this is what he left in us."
Kameni also lamented that lessons from Foe's death have not been learnt by clubs around the world.
"After Ekeng's death I spoke the doctors at Malaga who said the medial team was fast but that Ekeng like Foe would have had a chance if a defibrillator had been handy."
As well as the Idriss Carlos Kameni Foundation the goalkeeper also has a team in the second division and one of his key goals has been to develop adequate medical services.
Those services have already been able to ensure one young player with cardiac issues has received the care and treatment he needs to ensure he continues to play football.