BBC Sport - Euro 2016: NI's McAuley 'doesn't want sympathy' after own goal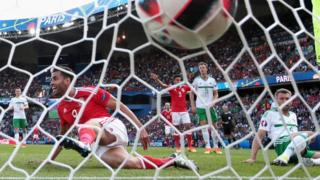 McAuley 'doesn't want sympathy'
Northern Ireland defender Gareth McAuley says he "doesn't need sympathy and doesn't want it either" after scoring the own goal that saw Northern Ireland knocked out of Euro 2016.
McAuley touched Gareth Bale's left-wing cross into the net with five minutes remaining to hand Wales a 1-0 win in Paris and a place in the quarter-finals of the tournament.
"We have embraced the tournament, we've had a great time and worse things happen in life," reflected the West Bromwich Albion defender.