BBC Sport - Euro 2016: Roy Keane says he has been 'close to a lot of people' during career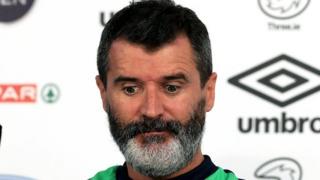 I've been close to a lot of people - Keane
Republic of Ireland assistant boss Roy Keane says he has been "close to a lot of people" during his career, when asked about his emotional embrace with manager Martin O'Neill after their team's win over Italy.
"It's just a bit silly that everyone seems to be making a song and dance about it. You must have very, very little to write about. You must be very bored," said Keane, 44.
"After the game, what are you going to do? Everyone was hugging each other. It was fantastic. A normal reaction when you win a big game of football.
"I'm always hugging people. It's just that there's not usually people around.
"I'm always hugging my dogs but nobody seems worried about that."