Togo support coach Claude LeRoy despite France jail threat
Last updated on .From the section Football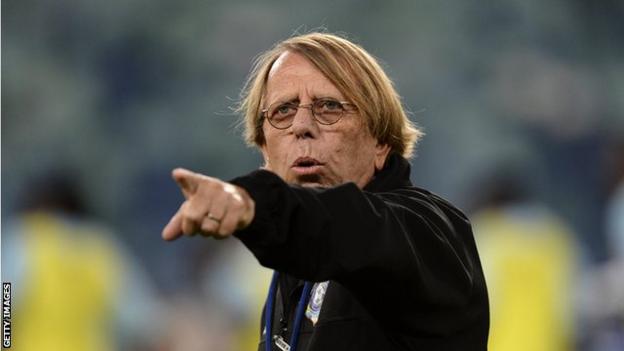 The Togo Football Federation will not sack coach Claude LeRoy despite French prosecutors demanding he go to jail.
LeRoy is facing a case about his involvement in the fraudulent transfer of players at French club Racing Club de Strasbourg in the 1990's and 2000's.
Prosecutors asked the High Court of Strasbourg last week to jail LeRoy for two years, with 18 months of the sentence to be suspended.
"Concerning Strasbourg, I know I'm totally clear," LeRoy told BBC Sport.
"All I have to do is wait for the decision of the president of the tribunal on 13 September."
As well as LeRoy the prosecutors want the club's former president Patrick Proisy jailed for three years with 30 months suspended
Prosecutor Sebastien Hauger says Proisy "was the real head" of the club while LeRoy was primarily an "ambassador" and removed from its financial realities.
Hauger has not asked for monetary sanctions against the men as neither of them benefited financially.
The prosecution claims that false invoices enabled sports marketing company IMG and various intermediaries to profit from the transfer of players - to the financial detriment of Strasbourg.
LeRoy has been in charge of Togo since April when he replaced Tom Saintfiet.
Frenchman LeRoy has been in charge of several African nations including Ghana, Senegal, DR Congo and won the Africa Cup of Nations with Cameroon in 1988.