Sam Cochrane hopes giving up Guernsey FC captaincy will improve his performances
Last updated on .From the section Football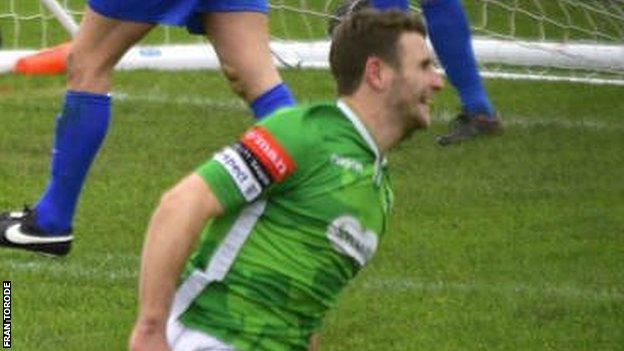 Sam Cochrane hopes giving up the Guernsey FC captaincy will lead to him improving his performances.
The 30-year-old had been captain since the club was formed in 2011, and has led them to two promotions and the semi-finals of the FA Vase.
"What I can no longer offer to the group is being available for 40 or 50 games a season," he told BBC Guernsey.
"I'm going to offer myself 100% to the fixtures I can, rather than at 60 or 70% to every single fixture."
Cochrane says he is finding it harder to balance his work and family commitments alongside playing for Guernsey FC, who compete in the Isthmian League Division One South.
"I've travelled and I've played home games and not quite been at the races," added Cochrane, who has won one gold, two silver and a bronze medal with Guernsey in the Island Games.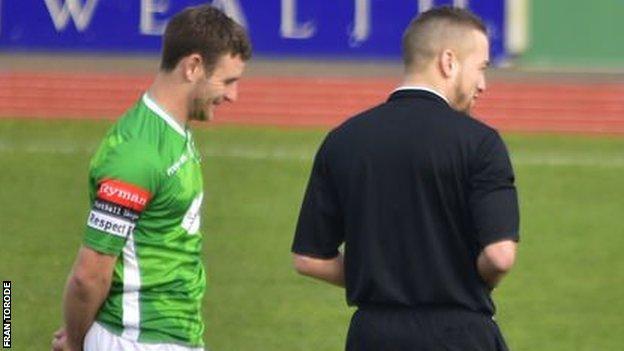 "When you're a captain you need to be dragging your team along, not being dragged along by your teammates. It's for someone else to take the opportunity now and to lead the group."
And Cochrane says he will still commit himself to the island side, but will be more selective with the matches he makes himself available to manager Tony Vance for.
"I'll play as much as I can but there will be slight tweaks to the fixtures I do play," he added.
"If we've got a full quota of players available to us, whether it be a home game or an away game, and potentially there might be a Tuesday night fixture on the cards that can cause us problems, me and Tony have discussed that I may take the opportunity to have a rest on a Saturday to give myself the opportunity to travel on a Tuesday to keep us strong."