St Pauli: Masked man fills in for Ewald Lienen as Marvin Ducksch is paraded
Last updated on .From the section European Football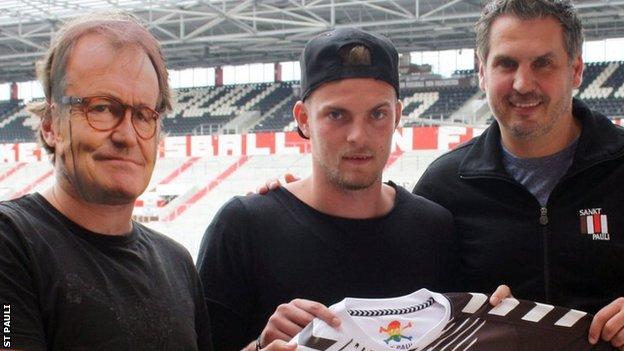 It is that time of year where managers stand alongside new signings with a glowing look of pride on their face.
But what if the manager cannot make it? German second-tier club St Pauli have offered a solution to such a dilemma.
In the absence of boss Ewald Lienen, a masked man was used as they paraded new striker Marvin Ducksch.
St Pauli - regarded as a cult club in Germany - posted an image of the mask along with a message reading "a one off" after fans began to ask questions.
Ducksch, a 22-year-old signed from Borussia Dortmund, said he was looking forward to "playing in front of big crowds again".
Meeting his new manager would be a start.