Referee banned for stealing female referees' identities on Tinder
Last updated on .From the section Football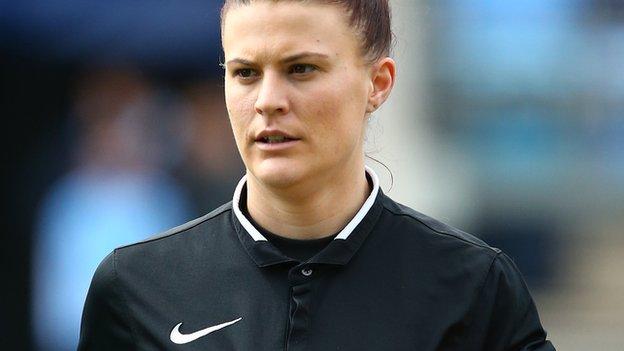 A male referee has been banned from all football-related activities until 2019 after posing as female officials on a dating app.
Connor Mayes set up fake accounts on Tinder, pretending to be Women's FA Cup final official Lucy Oliver, Amy Robinson and Paula Wyatt.
He was banned by the Hampshire FA after admitting an improper conduct charge.
Mayes knew Oliver - wife of Premier League referee Michael Oliver - working with her at county-level matches.
He had also been one of her students when she worked at South Downs College near Portsmouth.
Mayes' fake accounts led to social media users mistakenly believing the women were acting flirtatiously. They received unwanted comments and unsolicited approaches while they were refereeing and socialising.
Women's sport support network, Women in Football (WiF), called on the Football Association to offer counselling support to the match officials, who it said have been left badly affected by the incident.
WiF said: "Lucy, Amy and Paula have been through hell, with their reputations tarnished and their confidence shattered.
"Mr Mayes can return to football in three years as if nothing has happened but the women need FA sponsored counselling now to help them recover from this traumatic online abuse and to ensure that they can continue as highly successful referees."
An FA spokesman insisted they had been in "regular contact" with the victims to offer "assistance and guidance".