BBC Sport - Euro 2016: Gareth Bale's barber is nowhere to be found, says Chris Coleman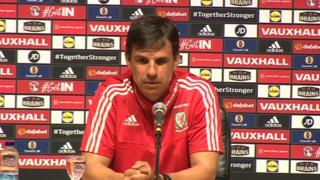 So where is Gareth Bale's barber?
It might haven been the first Wales football media conference at the finals of a major tournament in 58 years, but manager Chris Coleman was not showing any anxiety in Dinard.
The former defender had a dig at some media reports about his team's preparations.
It appears some might be exaggerated!
Wales play Slovakia in their opening game on Saturday, 11 June (17:00 BST).