BBC Sport - Solihull promotion a 'special achievement', says boss Marcus Bignot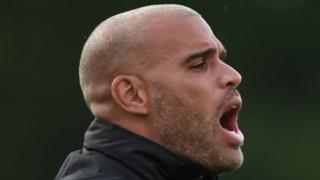 Solihull promotion a big achievement
Solihull Moors manager Marcus Bignot dedicates his side's promotion to the National League to the "special people" at Damson Park.
"We have good people here," he told BBC WM's Adrian Goldberg. "Not just the players, but throughout the whole infrastructure of the club. People who put in endless hours free of charge who go above and beyond.
"Like our chairman Trevor Stevens. He has given his life not only to this club but also to non-league football over the last decade. What he's achieved is remarkable.
"There are others who have been key. Geoff Hood, our club president, who died earlier this year, wasn't here to see it, but I know he was looking down."