Jonas Gutierrez: Ex-Newcastle United boss Alan Pardew had 'concerns' in 2011
Last updated on .From the section Football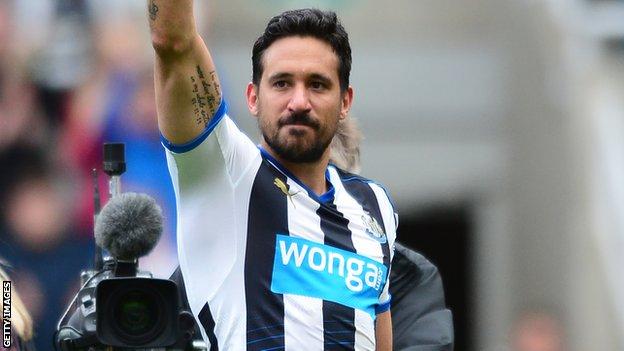 Ex-boss Alan Pardew had concerns about Jonas Gutierrez's future at Newcastle four years before he was released.
Pardew said the midfielder was unlikely to be a regular starter despite offering him a four-year deal in 2011.
The 32-year-old, who was released in 2015, is suing Newcastle for disability discrimination over how he was treated after being diagnosed with cancer.
"My particular concern with Jonas related to the low number of goals he scored," Pardew, 54, told a tribunal.
"He had scored only three goals in the 2010-11 season which, for an attacking midfielder, was well below what I would have expected."
Pardew, now Crystal Palace manager, continued to start Gutierrez during the 2011-12 and 2012-13 campaigns because of his "experience" but he only scored three goals in that time, which Pardew said was again below his expectations.
He added the signings of players including Yoan Gouffran, Moussa Sissoko and Vurnon Anita in 2013 then saw the Argentine fall out of contention for the first team - something Pardew said he told Gutierrez that summer.
'I felt the fairest approach was to be honest'
"I was honest with him and explained he would not be a regular in my first team for the upcoming season [2013-14]," Pardew, who appeared on day three of the employment tribunal in Birmingham on Thursday, said in a witness statement.
"Jonas appeared to accept my decision and continued to train well.
"However, as expected after a difficult conversation like this, I felt our previous good relationship deteriorated from this point onwards."
Pardew said he was "really upset for Gutierrez" when he heard the player had been diagnosed with testicular cancer in October 2013, but told him he was still unlikely to feature in the first team in December of that year.
Gutierrez, now at Spanish side Deportivo La Coruna, claims this was because of his cancer diagnosis and because they considered him to be a "liability".
"I respected Jonas as a professional and I felt the fairest approach was to be honest with him," said Pardew. "This was purely a footballing decision.
"It is personally upsetting to me that Jonas appears to think otherwise."
'We welcomed him back with open arms'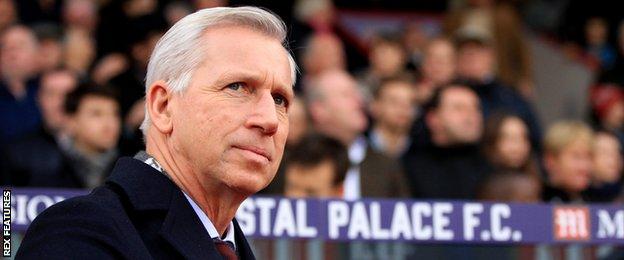 Gutierrez claims he felt neglected by Newcastle during his second bout of treatment when the cancer returned in 2014, saying he was not contacted by Pardew or any of the club's directors.
But Pardew, who lost his father to cancer in the early days of his playing career, said he thought that was the way Gutierrez wanted to handle it.
"When he first got diagnosed, his instructions were that he did not want anybody to know, bar myself," said Pardew. "Not even the players.
"I genuinely felt he wanted to deal with that in that manner.
"All my concern for Jonas went through the doctor. I do remember he said it was difficult to contact Jonas at times. I took that as the way he wanted to deal with it.
"My father dealt with it by not telling us anything. I kept my concern solely through the doctor.
"I felt we did as much as we could because he detached himself from us. We welcomed him back with open arms."
Pardew said he urged Gutierrez to draw a line under the past on his return at the end of 2014, but felt he was "aggrieved with the club".
The tribunal continues.