Womens' Euro 2017 qualifying: Fay wants six points from double header

By Richard Wilson
BBC Scotland
Last updated on .From the section Football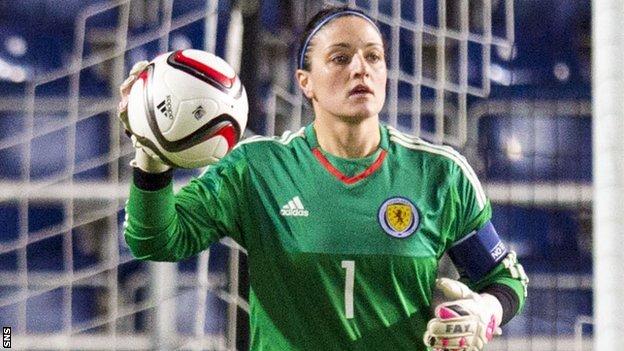 Gemma Fay believes it is "vitally important" that Scotland take maximum points from their remaining two home Women's Euro 2017 qualifying ties.
The national team face Slovenia at the Paisley 2021 Stadium next month and are still to face Iceland at home before ending with two away games against Belarus and Iceland.
Anna Signeul's side top Group 1 with a 100% record from four games, and Fay admits there is an expectancy that they will qualify.
"Home games are vitally important for any team in any qualification, those are the ones you want to get the points in the bag [in], with the home crowd behind you, it's your surroundings," the Scotland captain said.
"So it's very important that we put the performances in at home and get the points in the bag.
"We'd like to be in the ideal situation that come the last game of the campaign we've already qualified. All the pressure's off then, but as we've seen across a lot of European Championship qualifiers, in the men's and women's games, you can never second guess these things.
"This is an interesting campaign for us. Previously, we always believed we could qualify and we came so close on so many occasions. It was never expected of us, we weren't the team in the group that was expected to qualify.
"With the group that we've got, with Iceland as the top seed, we know we can beat them, we've beaten them before, and with the quality of players we have, there's an expectation that we'll qualify.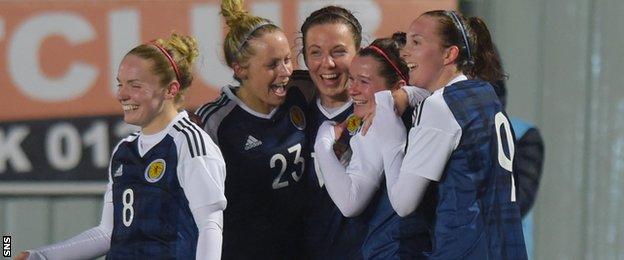 "That has come from outwith the camp but we've got an expectation ourselves that we be professional in every game and we've shown against teams like Macedonia that we'll do that. But we have to deliver against the tougher teams like Slovenia and Iceland."
Scotland's last tie in the group was a 10-0 win over Macedonia, although their last match was a friendly against Spain, which ended 2-2.
Fay believes that game came too early in the season to act as a marker of the team's capability, but the Scotland goalkeeper still considers it a worthwhile experience.
"I'm not sure it's an indicator of where we're at as a team, because that was our second game together since Macedonia and it's the beginning of our season, a lot of us hadn't started the league," she said.
"So more towards June will be a better indicator of where we are as a team. But it's a good indicator of the level that we want to reach.
"Spain have been to the last two major championships and that's where we want to be. It was good to come up against a team that's been there.
"The last time we played Spain was in the play-offs for the European Championships and it was good to see how they've progressed having accessed those top tournaments and hopefully that will have the same effect on us.
"We're a far better team, we've got a lot more experience, but Spain had improved massively as well. It's not as if anyone stands still. We've just got to up the rate of improvement to compete at that top level."