Mythbusting: Is a cold night at Stoke tough for players?
By Jonathan Jurejko
BBC Sport
Last updated on .From the section Football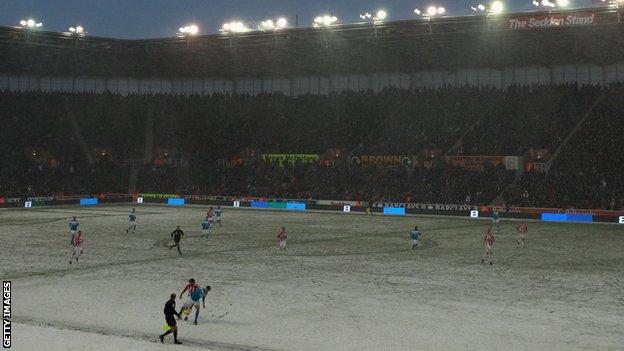 BBC Sport is analysing popular football myths to find out whether they are based on fact - or fiction. Do they stand up to scrutiny? Or are they cliches that can be banished once and for all?
The myth: They can't do it on a cold night in Stoke
That's the wisecrack often used to question the credentials of a successful team, the inference being a midweek winter trip to the Britannia Stadium would be the toughest test of their mettle.
Why? Because they are playing a Stoke side long stereotyped as uncompromising, at a ground which is often cold, wet and windy in the winter months.

But is a midweek visit to the Potteries between the start of November and the end of February really that hard for Premier League players?
Let's find out...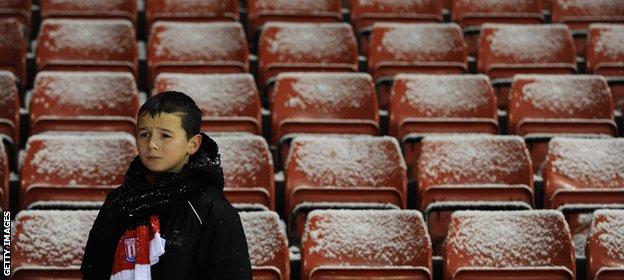 How do away teams fare at Stoke?
We have analysed the results of every midweek Premier League match during winter months over the past 10 seasons to find out which grounds are the most likely to leave visitors going home unhappy.
Stoke have hosted 13 winter night matches since they were promoted to the top flight for the 2008-09 season, and away sides have left with an average of 0.9 points per game.
That means Stoke is only the ninth-hardest trip in the Premier League.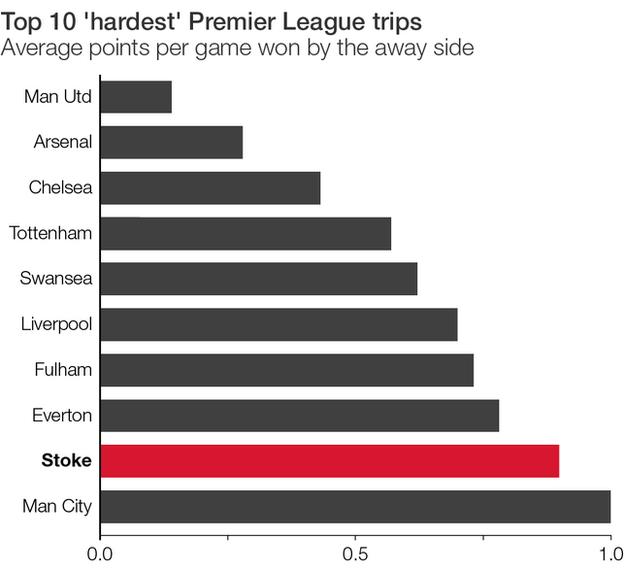 Of course, one would expect that away matches at title-challenging sides such as Manchester United, Arsenal and Chelsea rank as the most difficult.
But perhaps more surprising is that visiting Swansea and Fulham is more difficult than going to Stoke, while midweek journeys to Manchester City are easier than you might think.
How tough have Stoke's opponents been?
The Potters have actually had a pretty favourable list of opponents on winter midweek nights, suggesting they ought to be performing particularly well in those matches.
Nine of Stoke's 13 midweek winter home games have been against teams lower than them in the table.
The Potters have won only one match against a team in a higher position - a 3-2 victory against Fulham in the Premier League's first 'cold night in Stoke'.
Stoke's winter midweek evening games

Season
Date
Visitors
Result
Weather
Temp
2009-10

5 Jan

Fulham

W (3-2)

Snow

-0.9

16 Feb

Man City

D (1-1)

Mist

1.0

2010-11

9 Nov

Birmingham

W (3-2)

Sleet

3.2

28 Feb

West Brom

D (1-1)

Rain

3.1

2011-12

26 Dec

Aston Villa

D (0-0)

Dry

8.8

2012-13

28 Nov

Newcastle

W (2-1)

Dry

0.5

26 Dec

Liverpool

W (3-1)

Sleet

5.8

29 Jan

Wigan

D (2-2)

Rain

11.8

2013-14

4 Dec

Cardiff

D (0-0)

Dry

2.6

12 Feb

Swansea

D (1-1)

Dry

5.7

2014-15

22 Dec

Chelsea

L (0-2)

Dry

10.4

11 Feb

Man City

L (1-4)

Dry

2.8

2015-16

13 Jan

Norwich

W (3-1)

Shower

2.6
When is the best time to play Stoke?
The simple answer - perhaps surprisingly - is winter.
In winter midweek matches the Potters have a lower win percentage, take fewer points and score fewer goals than they do when the weather is warmer.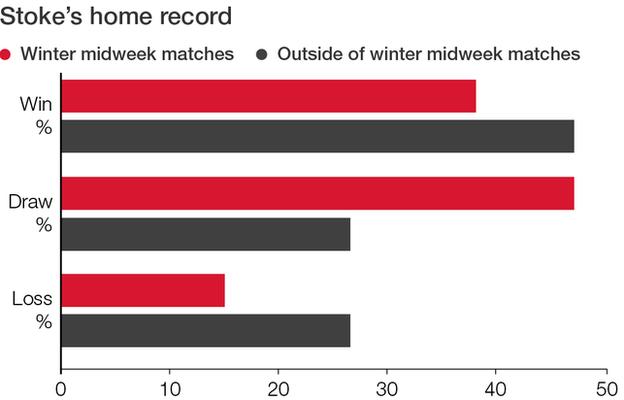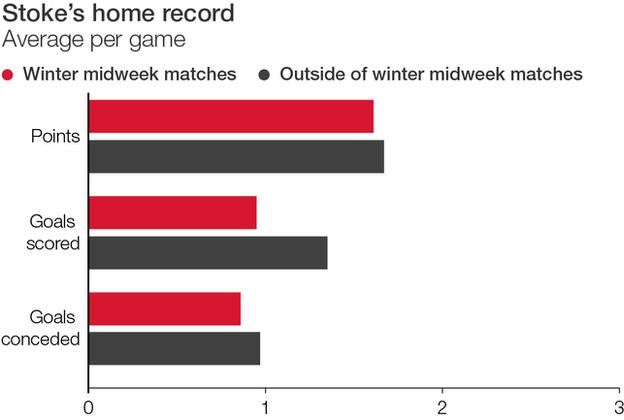 'It was hard but the stigma has gone'
Former England international Danny Murphy says opposing players have seen going to Stoke as a tough away game - but not necessarily because of the weather.
"It was because they were playing a certain style under Tony Pulis and it was as hard a place to go as any," said the ex-Liverpool, Tottenham and Fulham midfielder.
"The pitch was really small, it was a tight ground with a lively atmosphere, and they would fire balls into your box from everywhere.
"That stigma has gone a bit from Stoke now because they have changed and evolved under Mark Hughes."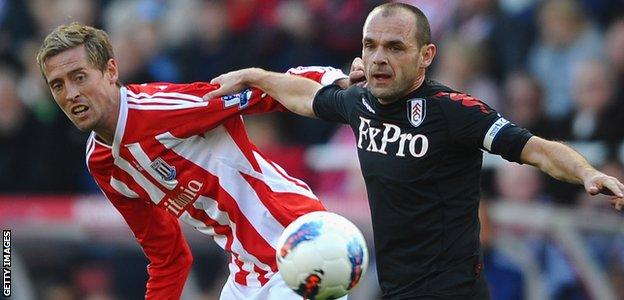 A trip to Stoke is getting easier under Hughes
Murphy raises an excellent point - Stoke have become a different team since Hughes replaced Pulis before the 2013-14 season.
Former Manchester United and Barcelona striker Hughes has placed a greater emphasis on keeping possession, with his Potters team passing the ball more often than Pulis' side, but lacking the same physical presence.
Does that mean they are a softer touch on midweek winter nights?
Under Pulis, Stoke had a 50% win ratio.
Under Hughes, they have a 20% win ratio.
Pulis' team did not lose any of their eight midweek winter matches at the Britannia, but Stoke have lost two of five under Hughes - winning only once.
Can foreign players hack it?
"Lionel Messi? Unbelievable player. One of the world's greatest."
"Yes, but can he do it on a cold Tuesday night at Stoke?!"
Unless Stoke qualify for the Champions League in the next few seasons - or Messi follows Pep Guardiola to Manchester City - we're unlikely to find out whether the Barcelona and Argentina superstar can perform at the Britannia.
But we can tell you this: overseas players have found the net regularly in midweek winter matches at Stoke.
Sixteen of the 37 goals scored at the Britannia Stadium between November and February - which excludes one own goal - have been netted by players who are not British or Irish.
Seven foreign-born Stoke players - Mamady Sidibe, Tuncay Sanli, Abdoulaye Faye, Robert Huth, Ricardo Fuller, Kenwyne Jones and Joselu - have each scored once.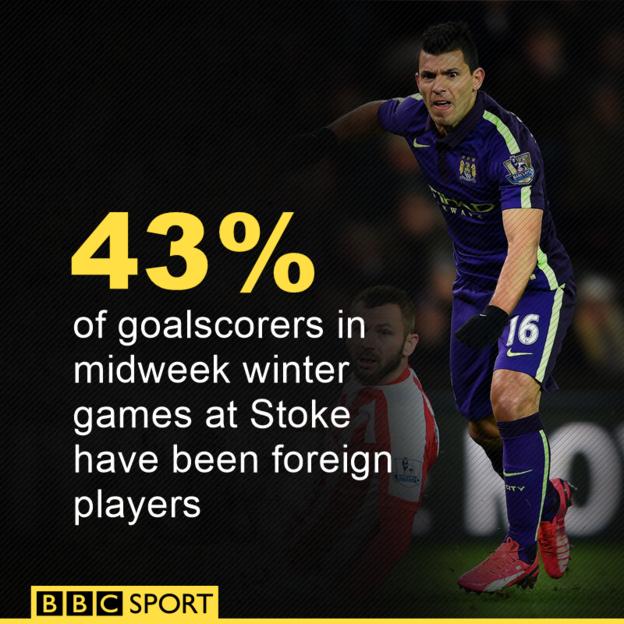 The verdict
The statistics show away players can do it on a cold, winter night in Stoke.
And here's why:
Midweek winter trips to the Britannia have become easier since Tony Pulis was replaced by Mark Hughes.

Away teams have taken a healthy average of 0.9 points per Premier League game, making it only the ninth-hardest midweek destination.

That's despite the Potters playing supposedly weaker teams in nine of their 13 games.

Even Stoke themselves are better at home in the warmer months, indicated by their higher win percentage, meaning teams are more likely to avoid defeat in midweek winter matches.