Fantasy football: Expert's guide to succeeding over Christmas
Last updated on .From the section Football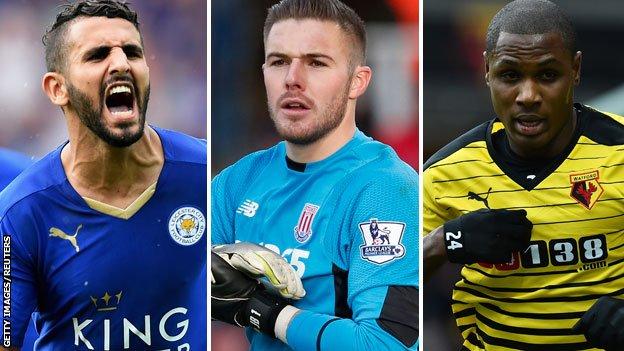 The busy Christmas period can be make or break for football teams - and the same applies for managers who play fantasy football.
Simon March is the reigning champion of the Fantasy Premier League game, having beaten more than 3.5 million other managers to win the title in the 2014-15 season. He triumphed by 21 points and held the top position for 15 consecutive weeks - both records.
Here - at the risk of helping his rivals - he offers his tips for succeeding as a fantasy manager over the Christmas period.
What is the strategy for picking teams at Christmas?
The only predictable thing about the Christmas schedule is rotation. Three games in eight days will mean players surprisingly dropped to the bench at times, not to mention the impact of suspensions or injuries.
More than ever, strength in depth counts. Ideally fantasy managers should try to have 15 fit, first-choice players for the Christmas schedule and avoid those who are a card or two away from a ban.
As a general rule, rotation occurs more frequently the stronger the squad. For example, rotation is more likely to take place at Arsenal, Manchester City and Manchester United than it is at the squads with less depth such as Leicester, Crystal Palace and Swansea.
It's therefore worth looking at the best options in these squads for that increased level of likely starts.
Uncertainty over line-ups also has significance for captaincy choices. It's important to make sure your vice-captain is as solid and reliable an option as possible.
I generally avoid having a captain and vice-captain from the teams playing in the same fixture during this period for fear of the match getting cancelled due to weather. It's happened before!
Finally, with so many games in quick succession, it's also easy to miss the deadlines. Many fantasy managers abandon their teams at this point for exactly this reason.
Therefore, keeping on top of the deadlines could translate into a rankings boost for the more alert managers. Where possible, try to have your team ready the night before the deadline (ideally before the sherries).
Who have been the stars so far?
High on the list for outstanding value so far this season are Leicester duo Jamie Vardy and Riyad Mahrez.
With 28 goals and 11 assists between them, they have consistently made a mockery of their low starting prices.
Watford striker Odion Ighalo has also been a surprise, offering phenomenal value with 12 goals and five assists.
Watford's tough festive fixtures may be the strongest test of his credentials to date, but few would bet against Ighalo continuing his incredible form.
Who to bring in and who to ditch?
Arsenal should deliver strong attacking returns with home games against Bournemouth and Newcastle; Mesut Ozil, Theo Walcott and Olivier Giroud all have the potential to score well.
Personally I like the look of Aaron Ramsey who, back in the team and in his favoured central role, has some of the best attacking statistics of any midfielder over recent weeks, including two goals and an assist.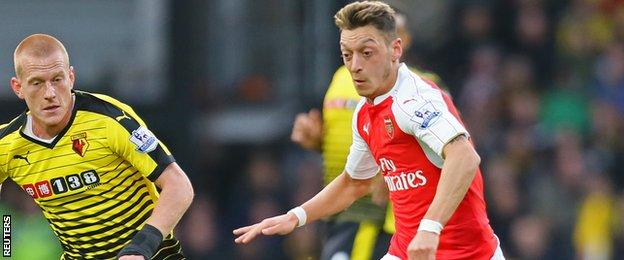 I think the surprise package could be Crystal Palace. They're away to Bournemouth before home games against Swansea and Chelsea. I'd be looking at the likes of Yohan Cabaye and Yannick Bolasie to deliver some attacking returns across those fixtures.
Defensively, I think West Bromwich Albion's games against Swansea, Newcastle and Stoke look good for clean sheets.
With decent attacking threat thrown in, Craig Dawson looks the pick of the bunch there. I also like the look of Spurs' fixtures against Norwich, Watford and Everton. With three goals already this term, Eric Dier offers scoring potential at both ends of the pitch.
Who have been the big disappointments?
Chelsea's Eden Hazard is, by some distance, the biggest disappointment. The game's highest scorer last season, expectations were high for the Belgian and he started the season in almost 60% of fantasy teams.
Yet he's managed just a single fantasy football goal (eventually deemed a Calum Chambers own goal) and three assists, form that has prompted a mass exodus of ownership in recent weeks.
Likewise hopes were high that Wayne Rooney could deliver again but among the general malaise at Manchester United, he has yet to deliver.
One big tip for the rest of the season?
Look out for double gameweeks and plan for them. Usually, as the season enters its last 10 weeks, we start to see teams playing twice in a single gameweek as fixtures become rescheduled due to things like cup replays.
Loading your team with players who will play twice obviously means they have double the chance to score. Yaya Toure and Clint Dempsey are recent examples of players who registered huge scores across double gameweeks.
Selecting the right player to be captain in a double gameweek can have a dramatic effect on your ranking. This season, with the introduction of the 'triple captain' (where points are trebled, rather than doubled) and 'bench boost' (where subs' points count) chips in particular, double gameweeks will be more important than ever before.
So the key tip I'd give for the second half of the season is to keep your wildcard (unlimited free transfers) and chips for the double gameweeks when they can yield the maximum impact.
Managed well, a double gameweek can completely change the course of your season.
It's not all about attacking players...
Stoke keeper Jack Butland is fast becoming a fantasy football fans' favourite, racking up cleans sheets galore, including notable ones against Manchester City and Chelsea.Butland is second only to Sunderland's Costel Pantilimon for saves yet also ranks among the highest for clean sheets with seven so far.Butland has registered three double-figure scores this term which, for a goalkeeper, is an amazing return. He's even contributed an assist!