Willie Collum proud to be chosen as Euro 2016 referee
Last updated on .From the section Football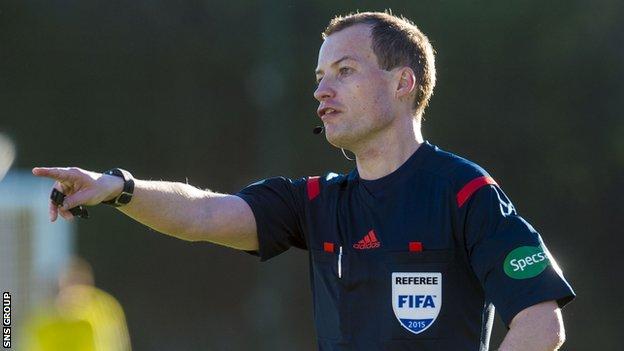 Willie Collum says being chosen to referee at Euro 2016 is the highlight of his career.
The 36-year-old Scot has been selected, along with English duo Martin Atkinson and Mark Clattenburg, on an 18-man list for the tournament in France.
"For a referee, it's the same as being picked to play for Scotland," he said of his first chance to referee at a major international competition.
"I'll be very proud to represent my country."
Collum, who has been a Scottish top flight referee since 2005, was an additional assistant at Euro 2012 and has Champions League experience.
He was also in charge of this season's Uefa Super Cup final between Barcelona and Seville.
"I've handled several top matches and I think that will stand me in good stead," Collum told BBC Scotland.
"It's a fantastic level to be involved in, to be on the pitch with these great players in great stadiums."
The 24-team tournament will kick-off next June but Collum is not looking too far ahead.
"You always try to perform at your very best," he explained.
"Of course you need to raise your game at different times and that depends on the nature of the match.
"For me, my next match is always the most important so my focus is on Falkirk v Rangers on Saturday."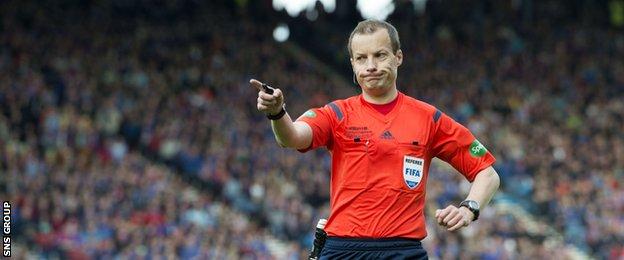 Like all match officials, Collum has had to learn how to deal with criticism and has no regrets about his career choice.
"It's important to acknowledge that we are human and we make mistakes," he added. "You always try to analyse those mistakes and try to learn from them.
"Anybody that thinks the referee goes homes after the game and just forgets about it is mistaken.
"For me, it's almost analysing the match to death sometimes. My wife and kids get fed up when I watch a replay 200 times.
"I understand the criticism. I think it can be over the top at times but it's part and parcel of the game.
"We're a bit like goalkeepers; when we make a mistake it's over-analysed for its impact in a match. It's how we recover from that and how we try to improve.
"It's not just by chance that you find yourself selected for a European Championship, it's hard work and dedication.
"There's no referee at the top level that doesn't think he can be better."