Yaya Toure: The karate kid turned footballer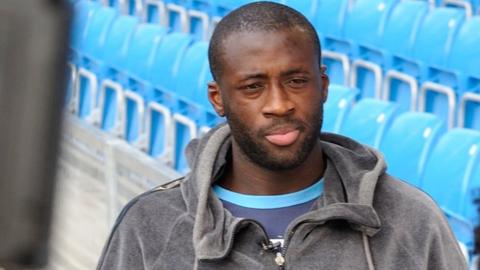 If things had worked out differently, Ivory Coast's Yaya Toure - who was crowned the BBC African Footballer of the Year for a second time on Friday - might have been a karate star.
That was the sport the Manchester City midfielder was into while a kid and one he may well have excelled at had his father not blocked it.
"He went to learn karate before he took up football, which he didn't play at the time," Mory Toure, Yaya's father, told BBC Sport.
"Within one week, he did so well he was selected to travel for a competition in Kenya."
However, his ambitions were swiftly nipped in the bud by his father, who banned Yaya from travelling because he feared him suffering injury or worse so soon after taking up the sport.
"I used to fight a lot with my brothers, so my dad said he would put me in a sport that would calm me down - and karate did," Yaya himself told BBC Sport with a smile.
Yet Toure senior relates the tale about karate to highlight the range of his son's abilities, which he says extend far and wide.
"One time I brought him to the village and put him in Koranic school because it was the holidays," says the 69-year-old, who is now retired after a lengthy career in the army.
"A week later, he was writing and speaking in Arabic. His teacher called me and said 'he's clever, eh? He's already writing and he doesn't forget what you tell him.'"
"Now Yaya speaks Spanish, Russian and English. He doesn't speak his own dialect - Tawana - though but I think that's his parents' fault," Mory laughs.
Toure's varied languages come as a result of his European football adventures, which started in Belgium in 2001 and which have since incorporated spells in Ukraine, Greece, France, Spain and now England.
Along the way, he has won countless titles - leagues championships with Olympiakos, Barcelona and City, and a Champions League and Club World Cup with Barca in 2009, to name but a few.
His very first trophy came when winning the Ivorian league with ASEC Mimosas in 2001.
The club is a famous breeding ground for a host of Ivorian football stars, such as Gervinho, Salomon Kalou, Didier Zokora, Emmanuel Eboue and Yaya's elder brother Kolo.
But one player immediately stood out for Jean-Marc Guillou, the former France international who ran the academy in the mid-to-late nineties.
"From the moment he started to play with ASEC, almost from the moment he first touched the ball, Guillou said he had a great player in Yaya and that he was going to win the best African footballer prize," says Mory.
"He's now won it four times."
He shares this feat with Cameroon's Samuel Eto'o, but Toure can beat the record when the Confederation of African Football announces its latest winner next month - with the 32-year-old once again among the favourites.
"When Yaya does something, he does it really well. He never wants to fail," he says.
Despite his military background, Mory credits Yaya's mother, rather than himself, as being responsible for the midfielder's drive and determination.
Mory has 10 children, nine of whom came with Yaya and brother Kolo's mother, who died in 2001, when the Manchester City star was in his late teens.
"Yaya is a strong character, just like his mother," says Mory.
"And if he says he is going to do something, he will do it. He's a man of character.
"Kolo took my character - he is kind and when he speaks about people, he is always humble with his words. He doesn't like trouble. But Yaya doesn't like injustice, he likes the truth and likes things to be straight.
"He also really loves competition, and I'll tell you a story. When he was at school, his main rival for being top of the class was this girl.
"When the girl was first, he was second - and vice versa. But each time the girl was first, he would tell her: 'You've beaten me this time, but next time it's me who will be first.' And the next time, he would beat the girl - even if it was by half a point."
This battling quality was perfectly illustrated earlier this year when Toure finally laid his hands on the Africa Cup of Nations title, at the sixth time of asking.
The 32-year-old had been part of sides that had lost previous finals, via a penalty shoot-out in both 2006 and 2012, but the Elephants made no mistake in Equatorial Guinea.
There was to be no silverware with City in 2015 but nonetheless, Toure's performances were enough for Fifa to name him as the sole African among its nominees for the Ballon d'Or.
He is very unlikely to win that prize but he does have a second BBC title to add to the one he collected in 2013, making him only the third man to win the trophy twice - after Nigerians Nwankwo Kanu and Jay-Jay Okocha.
And at some point on Friday, Mory will be expecting a phone call.
"I am very proud of my son. He has brought honour to Ivory Coast, to his region and to his ethnicity - the Tawana," he says.
"Every time he wins a prize, he calls me on the phone. He says, 'Papa, I've won - and I dedicate this victory to you because with you, I would not be where I am today."