Raoul Savoy says he quit as The Gambia boss and was not sacked
Last updated on .From the section Football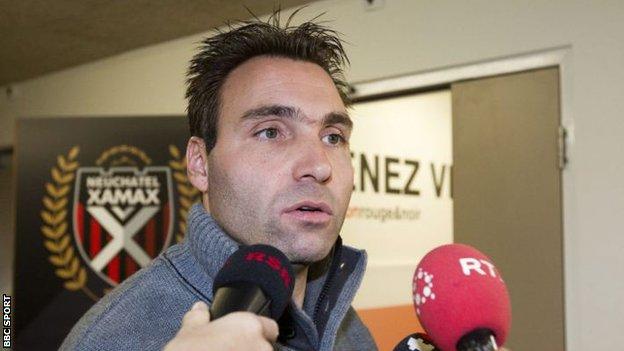 Raoul Savoy has insisted that he quit as coach of The Gambia for personal reasons and was not sacked.
The Gambia Football Federation (GFF) said on Saturday: "We have a mutual agreement amongst the stakeholders to terminate the services of Raoul."
But Savoy told BBC Sport: "I met with the [sports] minister last Tuesday and after a long meeting I decided to stop.
"I decided to stop because I can't continue due to personal reasons - the GFF never decided to sack me."
Savoy also rejected speculation in The Gambia that his decision was prompted by a fall-out with Swansea City forward Modou Barrow.
"It was nothing to do with players, nothing to do with staff and nothing to do with the people around the team," he insisted. "I cannot resign because of a player - a player is a player - I am the boss.
"Players have to follow my rules, my ideas and my philosophy of football, if a player doesn't want this they stay at home. That's it.
"I didn't quit with a smile on my face, I quit because I couldn't do anything else."
The 42-year-old, who was appointed only in May, feels that his short time in charge was a relative success - despite failing to win any of his five matches in charge.
His side were knocked out of 2018 World Cup qualifying by Namibia 3-2 on aggregate and are languishing in third place in their 2017 Africa Cup of Nations qualifying group with two matches to play and only the group winners guaranteed a place at the finals in Gabon.
"I don't think, in five-and-a-half months - after more than two years without international football and with young players - we did that badly," Savoy continued.
"It was clear from the beginning that it was a rebuilding process that would normally take a year or two of playing international friendlies, training a lot and meeting players so we can be better and better.
"Instead it was rushing, rushing from June until the end October.
"I think the way things were organised with the GFF, the sponsors and all the staff we did well.
"The experience in The Gambia was nice and I was so proud of working with this team."