Partick identify shareholders who allowed club to become debt free
Last updated on .From the section Football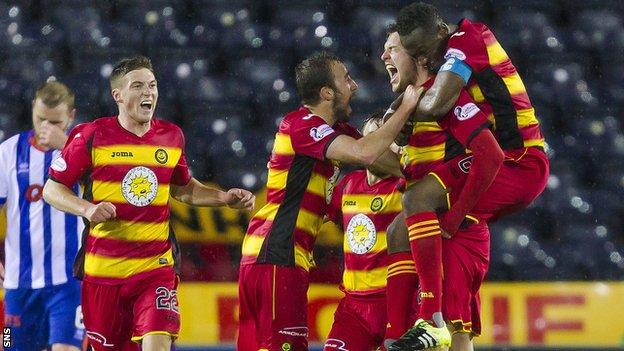 Partick Thistle have revealed a couple who won £161m on the Euromillions played a major role in allowing the club to become debt free.
Chris and Colin Weir now hold 5% in the club, while they also gifted a further 19.28% of shares to the newly established Partick Thistle FC Trust.
Thistle director Billy Allan was also involved in clearing the debt.
"They have allowed us to start a new chapter in the history of the club," said chairman David Beattie.
"Their investment has allowed us to secure the financial stability we promised fans at the start of the season."
Colin Weir added: "Chris and I are delighted to be part of the collective effort to help the club achieve financial security, no mean feat for any club in Scotland today. We also support the establishment of the Trust to give fans a greater say in their club and were pleased to be in a position to gift shares to it to get it off the ground."
Billy Allan has been on the Jags board since 2009 but, until now, has not been a shareholder.
"As a result of all the new investment, the club is in the strongest financial position it's been in for many years and that's great news for all concerned," said Allan.
Thistle, who were promoted to the Scottish Premiership in 2013, had been reducing their debt over the past seven years.
The Jags finished 10th on their return to Scotland's top flight but attendances at Firhill dropped by more than 500 on average. The clubs say crowd "numbers have stabilised in the current season".
Thistle encountered financial problems in the late 1990s and were aided by a fans initiative. called "Save the Jags."