Premier League: The most unpredictable season?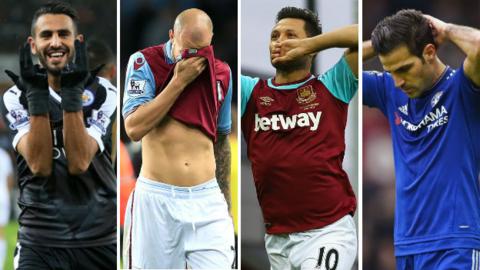 It is the Premier League season that has everyone scratching their heads.
Champions Chelsea are down in 14th. Leicester, bottom at Christmas last year, are top less than 12 months later.
In fact, as this image below shows, the old cliche that anyone can beat anyone has never been more apt. Undoubtedly, there have been some strange results.
But just how unusual has this season really been and what have been the key factors in making it so unpredictable? BBC Sport crunches the numbers to find out.
Chelsea go from champions to chumps
Chelsea's start to the season is the worst of any reigning Premier League champion.
In fact, Blackburn are the only other side to have picked up fewer than 20 points in the first 15 games of a title defence.
Chelsea and Manchester United have mounted the best starts to a defence, both registering 40 points in 2005-06 and 1993-94 respectively.
Points by defending champions in first 15 games
Season
Team
Points
Season
Team
Points
2005-06
Chelsea
40
1993-94
Man Utd
40
2000-01
Man Utd
36
2011-12
Man Utd
36
2006-07
Chelsea
35
1994-95
Man Utd
34
2009-10
Man Utd
34
2003-04
Man Utd
34
2014-15
Man City
33
2012-13
Man City
33
2007-08
Man Utd
33
1999-00
Man Utd
33
2002-03
Arsenal
32
2004-05
Arsenal
31
1997-98
Man Utd
31
2008-09
Man Utd
31
2010-11
Chelsea
29
1996-97
Man Utd
26
1998-99
Arsenal
25
2013-14
Man Utd
22
2001-02
Man Utd
21
1995-96
Blackburn
18
2015-16
Chelsea
15
Tight at the top
This is reasonably unusual. There are just six points between top side Leicester and fifth-placed Tottenham - it's only been that close one other time in the past 10 seasons.
Big boys get beaten
Last season's top two of Chelsea and Manchester City have lost a combined total of 12 games this term - the highest over the past 10 seasons.
Defeats in first 15 games for previous season's top two
Season
First
Second
Total
2015-16
Chelsea (8)
Man City (4)
12
2014-15
Man City (2)
Liverpool (6)
8
2013-14
Man Utd (5)
Man City (4)
9
2012-13
Man City (0)
Man Utd (3)
3
2011-12
Man Utd (1)
Chelsea (4)
5
2010-11
Chelsea (4)
Man Utd (0)
4
2009-10
Man Ud (3)
Liverpool (5)
8
2008-09
Man Utd (2)
Chelsea (2)
4
2007-08
Man Utd (2)
Chelsea (2)
4
2006-07
Chelsea (2)
Man Utd (1)
3
Away the lads
Teams are loving an away day this season.
There have been 51 away victories from 150 Premier League games this term - that's 34% of fixtures.
Of the 9,130 games in Premier League history, 27.25% have ended with a win for the visitors.
New boys bucking the trend?
The three promoted teams of Bournemouth, Watford and Norwich are all currently out of the relegation zone, which you might think is unusual.
Lately, it's not been that uncommon.
In fact, it has happened twice in the previous five seasons. Newcastle United, West Brom and Blackpool were above the drop zone at this point in 2010-11, as were QPR, Norwich and Swansea in 2011-12.
However, those are the only three times the feat has occurred in the past decade, and rarely do one of those sides beat the champions, as Bournemouth did when winning 1-0 at Chelsea on Saturday.
Will Leicester win the league?
The team that's top in early December is most likely to go on to claim the title, right?
If history is any indicator, Leicester City have actually got almost a 50-50 chance of causing a massive shock and becoming champions.
Where does the team top after 15 games finish?
Season
Team
Final position
Season
Team
Final position
1993
Norwich
3rd
2005
Chelsea
1st
1994
Man Utd
1st
2006
Chelsea
1st
1995
Man Utd
2nd
2007
Man Utd
1st
1996
Newcastle
2nd
2008
Arsenal
3rd
1997
Arsenal
3rd
2009
Liverpool
2nd
1998
Man Utd
2nd
2010
Chelsea
1st
1999
Aston Villa
6th
2011
Man Utd
1st
2000
Man Utd
1st
2012
Man City
1st
2001
Man Utd
1st
2013
Man Utd
1st
2002
Liverpool
2nd
2014
Arsenal
3rd
2003
Arsenal
2nd
2015
Chelsea
1st
2004
Chelsea
2nd
2016
Leicester
?
In Premier League history, the team top after 15 games has gone on to win the title 47.8% of the time. And that rises to 72.7% over the past 11 seasons.
Manchester United have been top after 15 games eight times - and have converted that into a title on six occasions
But of the eight different clubs to be top at this stage, only three - Manchester United, Manchester City and Chelsea - have gone on to win the title.
Or is it same old, same old?
It's all very intriguing, but then again, a quick comparison of the table this year with how it ended last season suggests little has changed.
Four of the current top six finished in the top six last season...
And the current bottom three...
Well they all just about survived last season...
And even in mid-table...
There's a familiar look to how it finished up last term, with four of the same six teams occupying the middle six positions.
So maybe the world of the Premier League hasn't been completely turned upside down just yet.