Fifa indictment laid bare: Fine art, a luxury yacht & a swimming pool
By Patrick Nathanson
BBC Sport
Last updated on .From the section Football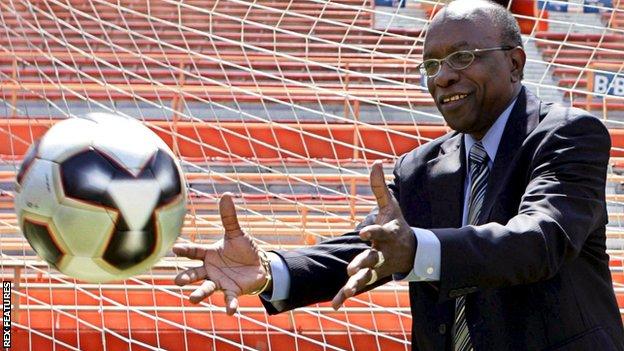 The full extent of the alleged corruption at Fifa has been laid bare in the 240-page indictment released by US authorities on Thursday.
The allegations made by the US Department of Justice are so serious there have been calls for Fifa itself to be closed down.
US attorney general Loretta Lynch told a news conference: "The betrayal of trust is truly outrageous."
What the indictment says:"Fifa's provision of money - which totalled in the hundreds of millions of dollars - to its member associations in connection with the Goal Program, Financial Assistance Program (FAP), and other programs created opportunities for officials to embezzle or otherwise fraudulently appropriate funding intended to benefit Fifa's associations and their constituent organizations, including youth leagues.
"Certain of the defendants and their co-conspirators, including the defendant Jack Warner and Jeffrey Webb, took advantage of these opportunities and embezzled or otherwise personally appropriated funds provided by Fifa, including funds intended for natural disaster relief."
Former Concacaf president Jack Warner - currently fighting extradition from Trinidad to the USA - and Jeffrey Webb, another former Fifa vice-president who has pleaded guilty to racketeering conspiracy, wire fraud and money laundering conspiracy, are accused of being involved in the diversion of funds that were set aside for natural disaster relief.
One emergency fund was made up of a $750,000 sum donated by Fifa and the Korean FA to victims of the 2010 Haiti earthquake.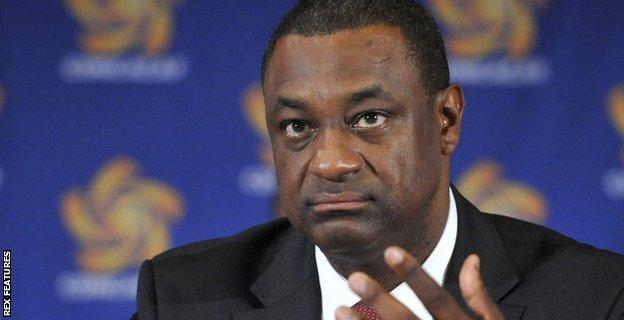 What the indictment says: "Co-conspirator 3 negotiated a second bribe from Traffic USA to Jeffrey Webb in connection with the renewal of the Gold Cup and Champions League contract. In the interim, Co-Conspirator 3 had begun to benefit personally from Webb's bribe schemes, obtaining an expensive painting from an art gallery in New York that was paid for by the defendant Costas Takkas, who, having previously served under Webb as general secretary at Cifa [Cayman Islands Football Association], obtained the new title of attache to the Concacaf president."
Alleged bribes paid to control the lucrative television and marketing rights to football tournaments are a recurring theme in the indictment. One unnamed executive ('Co-conspirator 3') for the marketing company Traffic USA is alleged to have received an expensive painting bought from a New York art gallery in return for negotiating kick-backs. Costas Takkas - a British citizen and former assistant to Jeffrey Webb - is accused of paying for the painting. He was arrested in May.
What the indictment says: "After receiving the funds, the defendant Costas Takkas wired a portion to an account in his name at Citibank in Miami, Florida. Takkas subsequently transferred the funds to an account in the name of a swimming pool builder at United Community Bank in Blairsville, Georgia, for the benefit of Jeffrey Webb, who was having a pool built at his residence in Loganville, Georgia.
"Takkas transferred another portion of the funds directly from his Kosson Ventures account at Fidelity Bank in the Cayman Islands to SunTrust Bank in Georgia for Webb's benefit in connection with Webb's purchase of other real estate in Stone Mountain, Georgia."
The indictment claims that with $500,000 still outstanding on an alleged $1.5m bribe from Traffic to Webb, his close associate Takkas arranged for payment to be made through his account. Takkas is then accused of transferring money directly to the builder of Webb's new swimming pool at his home in Georgia.
What the indictment says: "Jose Hawilla and Co-Conspirator 7 used the wire facilities of the United States in furtherance of the Copa do Brasil bribery scheme, including in connection with the following domestic and international wire transfers:
Date: December 5, 2013
Wire Communication
Wire transfer of $500,000 from Sports Marketing Company A's account at Itau Unibanco in New York, New York, to a JP Morgan Chase correspondent account in New York, New York, for credit to the account of a luxury yacht manufacturer at HSBC bank in London, England."
Jose Hawilla, the Brazilian businessman who founded the multinational Traffic Group, is accused, together with an unnamed co-conspirator, of making a $500,000 wire transfer in 2013 to a luxury yacht manufacturer as part of the alleged bribes around the rights to the domestic cup competition in Brazil. Hawilla pleaded guilty to corruption charges in 2014 and has agreed to forfeit $151m.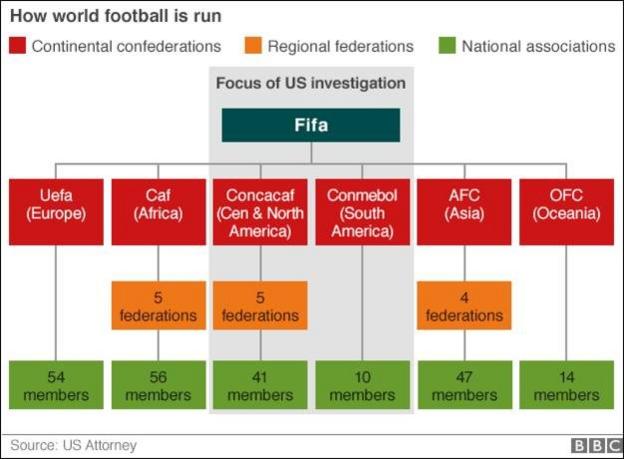 What the indictment says: "Starting in or about the 1990s, Jose Hawilla agreed on behalf of Traffic International to pay AFA, the Argentinian soccer federation, millions of dollars per edition of the Copa America so that AFA would field its best players. At times, Hawilla was directed to send payments not to AFA, but to a travel agency used to facilitate payments to Co-Conspirator 1 personally. Hawilla then sent the payments as directed.
"Hawilla also agreed to make payments to CBF, the Brazilian soccer federation, to ensure that CBF would field its best players for the Copa America editions played in or about and between 2001 to 2011. At times the defendant Ricardo Teixeira directed Hawilla to make the payments to accounts that were unknown to Hawilla, and that a Traffic financial officer informed Hawilla were not CBF accounts."
Hawilla allegedly agreed to pay millions of dollars to the Argentine and Brazilian FAs so that they would ensure their best players were fielded during Copa America tournaments throughout the years, which would enhance the value of the TV rights.
It is alleged that these payments were not always made directly to the football federation accounts. It is claimed that on the Brazilian side they were overseen by Ricardo Teixeira, who at the time was the president of the Brazilian Football Confederation. Teixeira is among those indicted in the latest charges.
What the indictment says:"In the early 2000s, Daryan Warner, a member of [Jack] Warner's family, had used Warner's contacts in South Africa to organize friendly matches for Concacaf teams to play in South Africa.
"At one point, Warner also directed Daryan Warner to fly to Paris, France and accept a briefcase containing bundles of US currency in $10,000 stacks in a hotel room from Co-Conspirator 13, a high-ranking South African bid committee official. Hours after arriving in Paris, Daryan Warner boarded a return flight and carried the briefcase back to Trinidad and Tobago, where Daryan Warner provided it to [Jack] Warner."
South Africa's ultimately successful bid to host the 2010 World Cup is featured in the indictment. Among the claims is the allegation that Jack Warner directed his eldest son Daryan to fly to Paris, pick up a briefcase full of cash in $10,000 bundles from a high-ranking official from the South African World Cup bid team in a hotel, and then fly straight back to Trinidad and Tobago. South Africa has denied that bribes were paid to secure the tournament.