South Africa through to U23 semi-finals as Tunisia go out
Last updated on .From the section Football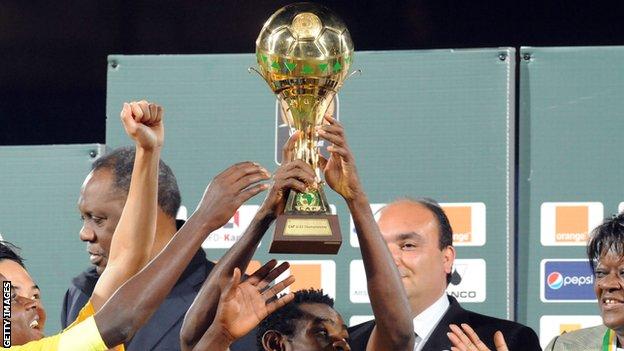 South Africa beat Tunisia 1-0 in the final game of Group A in M'bour to advance to the Africa Under-23 Cup of Nations semi-finals and keep their Olympic hopes alive.
South Africa needed at least a draw to progress, but the result ends Tunisia's hopes of advancing.
Menzi Masuka scored the all-important goal in the 85th minute to secure South Africa's place in the last four.
South Africa finished second in the group on six points.
Final Group A standings after 3 matches:
Senegal 9 pts
Q
South Africa 6 pts
Q
Tunisia 3 pts
Zambia 0 pts
The hosts Senegal finished top of Group A with a third consecutive win, beating Zambia 1-0 in Dakar.
Mohamadou Diallo scored for Senegal in the third minute to inflict a third straight defeat on Zambia who are eliminated.
Senegal and South Africa will both now have to wait until Saturday to see who they will play in the semi-finals.
Senegal will play the second placed team in Group B, whilst South Africa will face the Group B winners.
Both semi-finals will be played on Wednesday 9 December.
The tournament also serves as a qualifying competition for next year's Olympic Games with the top three finishers booking a place in Rio.