Celtic: Ronny Deila explains Anthony Stokes suspension

By Alasdair Lamont
BBC Scotland
Last updated on .From the section Celtic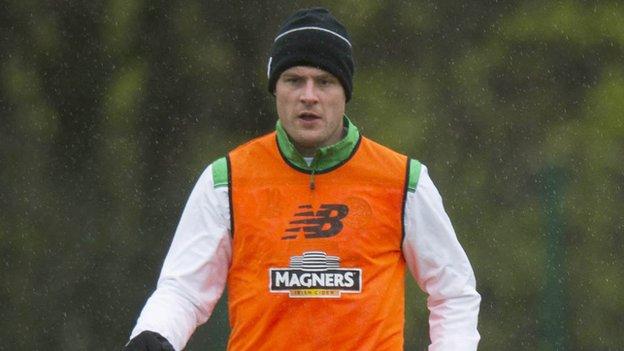 Ronny Deila says Anthony Stokes was suspended by Celtic over a culmination of issues, not just Sunday's Twitter outburst.
He has played only twice this season but Deila says he can have a future at Celtic.
"I would never suspend somebody (only) over that comment," said the Celtic manager.
The striker, who is out of contract at the end of the season, moved to Celtic from Hibernian in 2010 and has scored 76 goals for the Scottish champions.
Deila said: "I think everybody understands it's not about that single (incident).
"It's been some issues in the past and now we felt we had to put down a marker and I think that's going to be good in the end for us and for Anthony. After 14 days he will come back and hopefully we can keep him working.
"I won't go into the other issues. That's between me and him and the club."
Despite this latest indiscretion by the striker, Deila says he is willing to let Stokes show he can continue his career with the club.
"He has a future here. Of course there are things he needs to improve. If people are improving (they have) a future because he can play football," Deila added.
"If he makes the improvement we want, everything is possible. He has a contract at Celtic and he has talent and we want to get the best out of that talent.
"It's a thing we want to avoid but there are a lot of good football players who want to play, to be a part of things and things will happen when you have ambitious people, but sometimes we have to put down a marker over what is accepted and what is not.
"If he didn't have ability he wouldn't be here. He has very good ability. He is a goalscorer and a great player. Every player has different things they have to work on and he knows what I'm thinking about his issues to get better."