Barcelona complain over ex-Real Madrid pundits' Neymar comments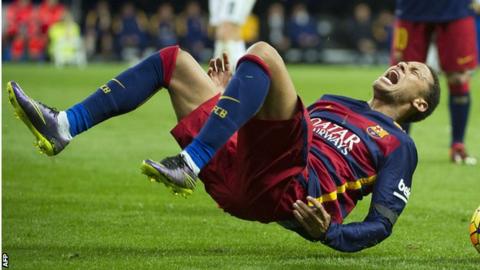 Barcelona have complained that two ex-Real Madrid players suggested Neymar deserved to be kicked during commentary of this month's El Clasico game.
Real substitute Isco was sent off for lashing out at forward Neymar in the 85th minute of his team's 4-0 defeat at the Bernabeu.
Barca claim Manolo Sanchis and Poli Rincon "repeatedly justified the aggression" on Spanish radio.
The club contacted a Spanish government group seeking to end violence in sport.
"FC Barcelona believes these statements to be an incitement to violence and therefore ask for action from the anti-violence commission," the club said in a statement on their website.
Barcelona claim former Real captain Sanchis said: "Neymar is going over the line, he isn't getting [hit] enough."
Ex-Real striker Rincon was accused of saying: "If I am there, I hit him, there should be no doubt that I hit him; me and anyone else."
Spanish authorities have been seeking to crack down on violence and verbal abuse in soccer since a Deportivo La Coruna fan was killed last year in organised fighting before a La Liga game at Atletico Madrid.