Steph Houghton: Germany draw beats World Cup performance
Last updated on .From the section Women's Football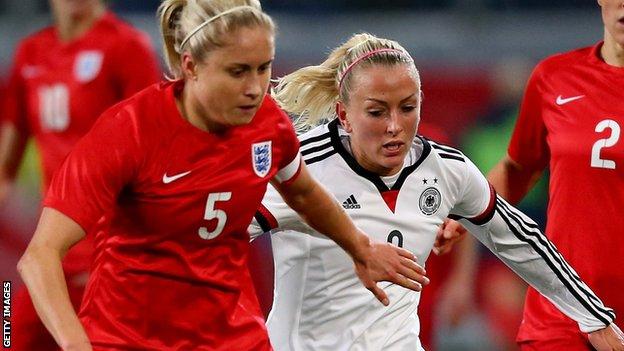 Captain Steph Houghton said England's display in their goalless draw against Germany eclipses the win over the European champions at the World Cup.
Thursday's draw came after the English season finished last month while German clubs are midway through their season.
"It's probably a better performance from us to get a clean sheet and create some chances when we are out of season," Houghton told BBC Sport.
"I think it was fantastic performance. It's a credit to the 23 players and the staff for the game-plan we had."
England's draw in Duisburg came after they lost to Germany 3-0 at Wembley in November last year.
And Houghton said the historic win over Silvia Neid's team this summer has signalled a new mentality in the squad.
"Over the last 12 months we have been on a massive journey and to come here and put in a performance like that, as captain I'm very proud," Manchester City defender Houghton added.
"We have ambitious players and are growing a winning mentality. It's different now, we are under different pressures to be the best in Europe and the best in the world, and that's the ultimate aim. We can't hide from that."
Ready for 'unknown' Bosnia-Herzegovina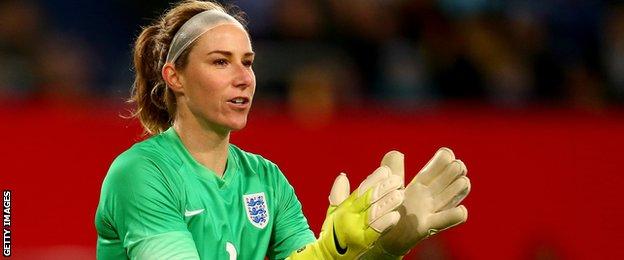 England now turn their attentions to their Euro 2017 qualifier against Bosnia-Herzegovina on Sunday at Bristol City, which is the first home game the Lionesses have hosted since winning the World Cup bronze medal.
Despite the quick turnaround, England goalkeeper Karen Bardsley said facing Germany was perfect preparation for a Bosnia-Herzegovina team who are ranked 72 in the world, 67 places behind England.
"We came here with a mindset to change the rivalry between England and Germany and stamp [our authority] after our previous meeting at the World Cup," she said.
"Bosnia and Herzegovina are a little bit of an unknown, but we will expect a certain standard, and playing a team like Germany beforehand is great preparation. Whatever team they put out we will be prepared for.
"I'm hoping it will be a big home crowd, and is a real festive homecoming for us. It would be great to have an awesome reception like that and put a great cap on a fantastic year."