Garth Crooks's team of the week: Lukaku, Vardy, Eriksen, Zaha

By Garth Crooks
Football analyst
Last updated on .From the section Football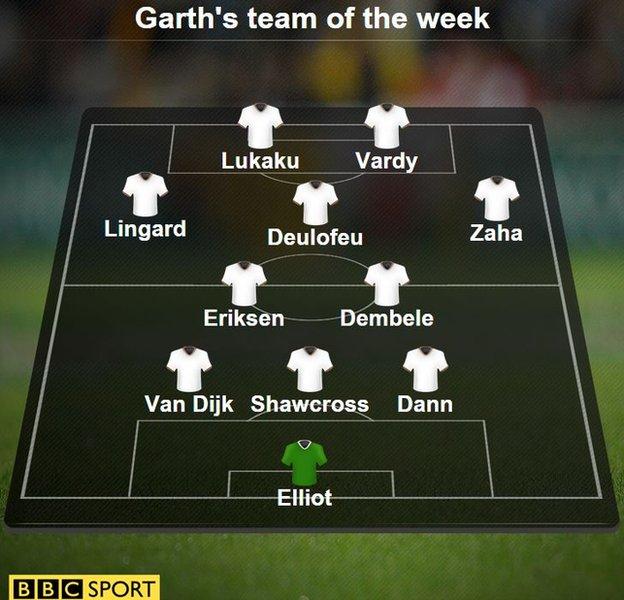 Goals were hardly in abundance on a tight weekend of Premier League action - but there was certainly no lack of entertainment.
Defending champions Chelsea were left feeling blue again, losing at Stoke for their seventh defeat in 12 top-flight matches this season.
Leaders Manchester City could not extend their advantage as Remi Garde earned a point in his first match as Aston Villa manager, second-placed Arsenal are still behind on goal difference after drawing the north London derby against Spurs.
Jurgen Klopp suffered his first defeat as Liverpool manager, while there were crucial wins for Newcastle and Norwich at the bottom.
But who made my team of the week? Here's my selection.
Goalkeeper - Rob Elliot (Newcastle)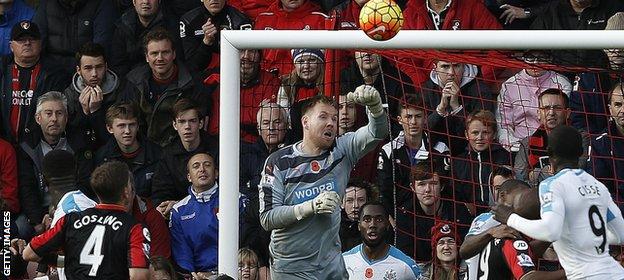 Elliot came into the game against Bournemouth having declared himself fit from a thigh strain. How refreshing to see a modern day player prepared to perform for his team even when he might not be 100% fit. It was just as well Elliot did play because not only was he outstanding in goal for Newcastle, he was the only reason they kept a clean sheet. The Magpies had scored one away league goal this season before the trip to the Cherries (in the 6-1 defeat at Manchester City) and having seen this performance I'm not surprised.
Defender - Scott Dann (Crystal Palace)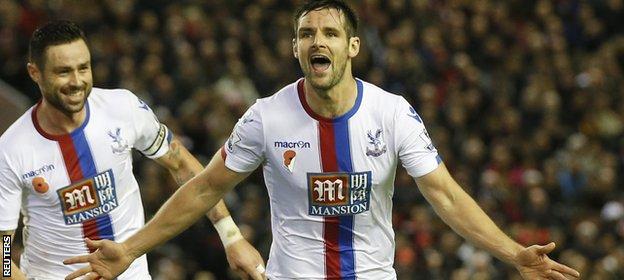 I don't understand why Roberto Firmino - not known for his aerial ability - was marking Dann on a set piece in the first place. If Jurgen Klopp is going to have any success at Anfield he's going to have to fix things like that. The Palace centre-back not only won the first header but also finished the rebound, giving Alan Pardew's men three very worthy points. I don't suppose it will help Liverpool fans knowing that Dann actually comes from Liverpool.
Defender - Ryan Shawcross (Stoke City)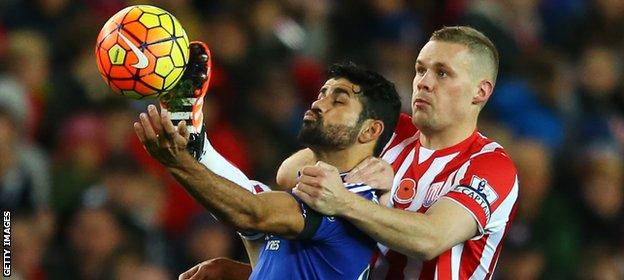 Shawcross had been out since May after back surgery and, in his first home Premier League game back, he picked up the captain's armband and led his team to victory against the champions. To be fair to Chelsea, they absolutely battered Stoke in the second half but couldn't stick the ball in the back of the net. The contest between Shawcross and Diego Costa was very entertaining but I gave Shawcross the verdict on points. Three to be exact.
Defender - Virgil van Dijk (Southampton)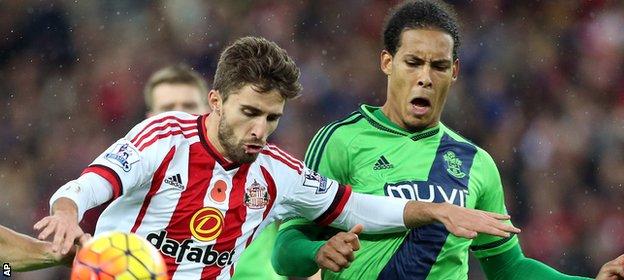 The Saints are unbeaten away from home in the league this season and in the 10 games Van Dijk has played in, following his £13m move from Celtic on deadline day, they have only lost one. Based on the evidence, the Dutchman is proving to be a very important member of Southampton's defensive line-up. The Saints are on a great run and have been nothing short of amazing under Ronald Koeman. So why are the press fuelling the speculation around Brendan Rodgers, Roberto Di Matteo or Guus Hiddink taking over at Chelsea? Blues owner Roman Abramovich would be stark raving mad to part company with Jose Mourinho, but if he did why wouldn't you go for Koeman?
Midfielder - Mousa Dembele (Tottenham)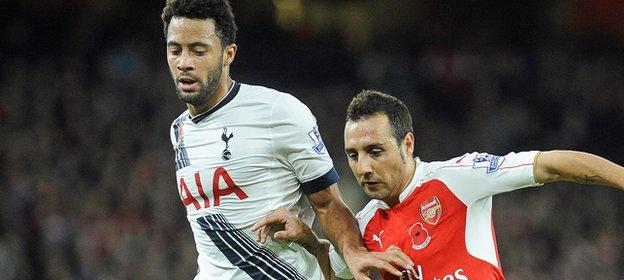 What a performance by Dembele - I thought he was brilliant against Arsenal. He looked strong and imposing on the ball and covered every blade of grass. I know that Bayern Munich softened Arsenal up in the Champions League in midweek, but Spurs played in the Europa League the day after so I'm not totally clear why the Gunners lacked puff. I must say to see Tottenham and, in particular, Dembele run Arsenal ragged was a bit of a shock. It must be a cause for concern for Arsene Wenger if they are, as so many people keep telling me, genuine title contenders.
Midfielder - Christian Eriksen (Tottenham)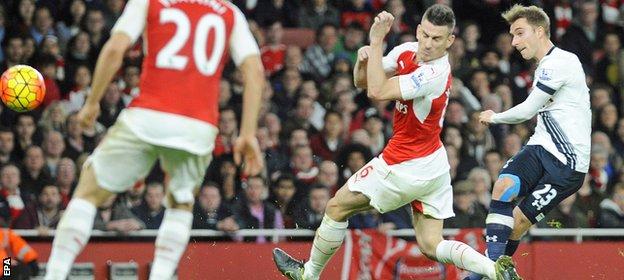 Tottenham dominated the north London derby from start to finish and Arsenal were lucky to even get a point. According to Arsene Wenger the only reason Spurs dominated the midfield was due to midfielder Santi Cazorla feeling dizzy and the reason why he was substituted. Well, that was because Christian Eriksen had Cazorla chasing shadows for 45 minutes. The Denmark midfielder played Arsenal like a fiddle. He pulled the strings of Erik Lamela and Dele Alli - who is proving to be an exciting prospect - with such effect it must have been painful for Arsenal fans to watch at times. Come on, be honest.
Midfielder - Wilfried Zaha (Crystal Palace)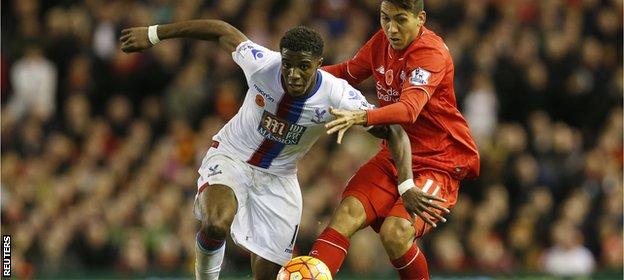 Palace winger Zaha has a frightening amount of talent and on any given day he can tear any defence to shreds. Against Liverpool he seemed to have one of those days where most of his tricks came off. He provided the cross that resulted in Yannick Bolasie's opening goal and was a continual pest to the Reds' defence. He can be a full-back's nightmare.
Midfielder - Gerard Deulofeu (Everton)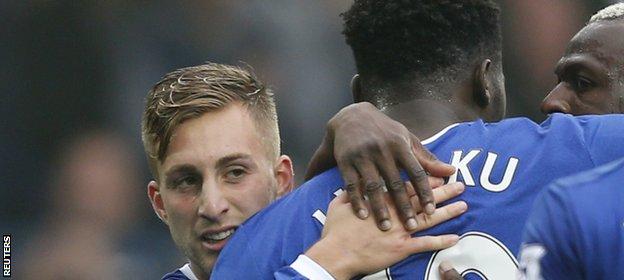 This lad would have made my team of the week after Everton's impressive 6-2 thrashing of Sunderland last week, if it hadn't been for the performance of his team-mate Ross Barkley. However, my selection of Deulofeu this week gives you some indication of the sort of form the Spaniard is in at the moment. The ball he produced for Romelu Lukaku to score the equaliser against West Ham was exquisite. There is no doubt that Deulofeu is talented but it looks like he is adding a level of maturity and consistency to his performances. Great news for the Toffees.
Midfielder - Jesse Lingard (Manchester United)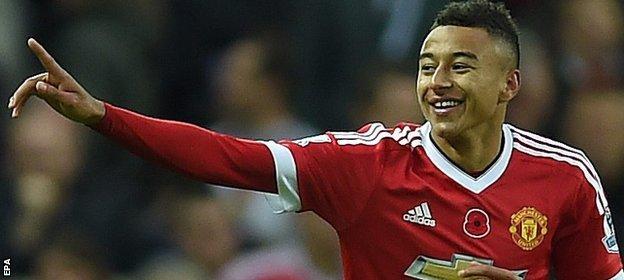 Manchester United hadn't scored a Premier League goal for three weeks, so scoring two in one game must have been something of a treat for United fans. The man of the moment was Jesse Lingard, whose first touch and finish was as good as you will see. However, it was his overall performance that was most impressive. The youngster always seemed to make himself available and was not afraid to take people on in the opposition's box when it mattered. I have been very interested in Louis van Gaal's preference for Lingard over Memphis Depay, who cost United an awful lot of money. There's no doubt that Lingard appears more interested in being part of the team as opposed to being the star of the team. Perhaps that is why Lingard is in and Memphis is out.
Forward - Jamie Vardy (Leicester)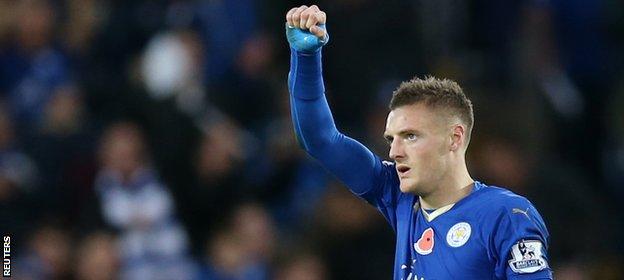 Well done Riyad Mahrez for letting Jamie Vardy take Leicester's second-half penalty against Watford. When you've scored in eight consecutive matches and chasing Ruud van Nistelrooy's Premier League record of 10, you can be forgiven for wanting to take a penalty - especially when it was you who was brought down. Well, Vardy did precisely that and regular penalty taker Mahrez, who has forged a wonderful relationship with the England international, was happy to oblige. So you can imagine my horror when I heard Alan Shearer state on Match of the Day that he wouldn't have handed over the ball. Thank goodness Ian Wright was on hand to provide the alternative view and make it abundantly clear that he would have given Vardy the penalty. Not all strikers are one-eyed green monsters after all.
Forward - Romelu Lukaku (Everton)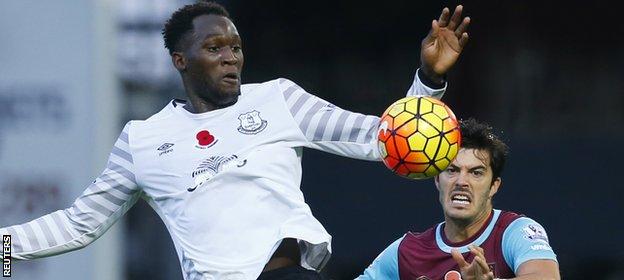 It's official - Everton striker Lukaku is back to his best again. His performances these past few weeks have been exceptional. The sad part for Everton is that Lukaku's success is apparently starting to interest clubs like French champions Paris St-Germain. Now this is scary stuff for Toffees boss Roberto Martinez, because he's just staved off an audacious bid from Chelsea for another one of his top players in John Stones. But if a concerted effort to sign Lukaku came from the deep pockets of PSG, then I think that could present a serious problem for Martinez and Everton.