Bayern Munich fans protest at Arsenal ticket cost
Last updated on .From the section European Football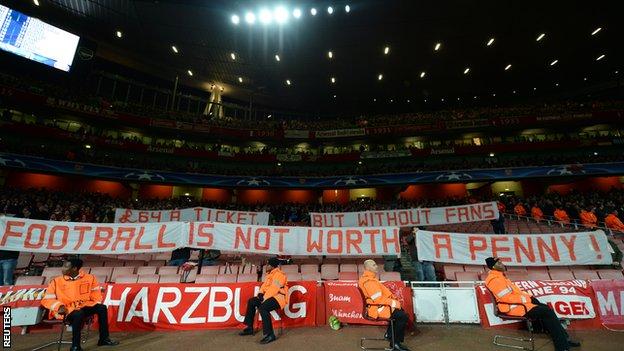 A Bayern Munich fans' group turned up late for their Champions League group match at Arsenal in protest at ticket prices for the game.
There was applause by Gunners fans when the group eventually took their seats.
Bayern's fans also displayed a banner which read: "£64 a ticket. But without fans football is not worth a penny."
Arsenal manager Arsene Wenger's side won the game 2-0.
"I will speak with Wenger for next time to make it cheaper for our fans," said Bayern boss Carlo Ancelotti.
"We will take care of Arsenal fans in Munich with a good price. They can travel."
A BBC Price of Football study, which analysed costs at 227 clubs across Britain and Europe, found that Arsenal have the most expensive match-day ticket in the Premier League at £97.
In contrast, Bayern Munich's cheapest season ticket in the Bundesliga is £140.
Earlier this month, the Football Supporters' Federation coordinated protests at all 20 Premier League clubs and 10 Championship teams, to call for a £20 cap on away ticket prices.