Jurgen Klopp: Have Liverpool found their perfect match?
Last updated on .From the section Football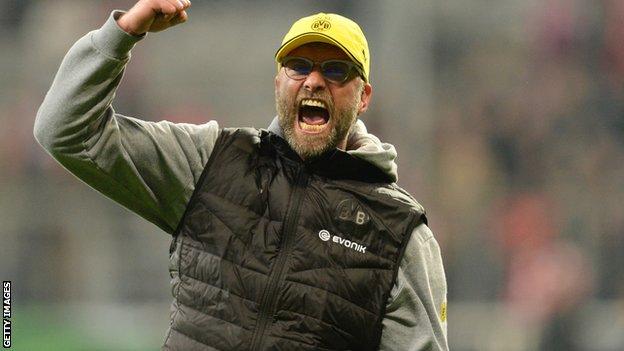 The ebullient and effervescent Jurgen Klopp is expected to be named as Liverpool's new manager at the end of the week.
The 48-year-old German is one of the most highly-rated and popular club coaches in football, having led former club Borussia Dortmund to two Bundesliga titles and the 2013 Champions League final.
So what makes this coach so well regarded, and does he have the X-factor to lift Liverpool out of the doldrums?
Here are the thoughts of those who know Klopp best:
Is Liverpool a good fit for Klopp?
Franz Beckenbauer, who won the World Cup with West Germany as both player and manager, believes Klopp and Liverpool will be a "good couple".
"I think Klopp is best for the club," he told BBC Radio 5 live. "It's a fantastic combination. He can achieve similar things with Liverpool like he did with Dortmund.
"Jurgen will find out what the problem is there. Klopp and Liverpool will be a good couple."
Former Germany midfielder Stefan Effenberg, a good friend of Klopp, echoed Beckenbauer's thoughts.
"Liverpool is one of the greatest atmospheres. It's pretty much the same as Dortmund," he told BBC World Service Sport.
"The fans stay with everything behind the club and this is what he likes and what he needs."
Gary Gordon, Dortmund's academy coach, said Klopp will need to analyse the dynamics of the club.
"He'll need certain people with knowledge supporting him," the Briton said. "He'll need to know about the club philosophy, down to the junior ranks, and see what sort of training they do.
"I think he'd want final say on the players coming in. He'll have to look at what the situation is and who he's got. He'll have to get to know the players."
Liverpool need motivation - can Klopp deliver?
Former Liverpool midfielder Dietmar Hamann thinks Klopp is the "ideal solution" for the Reds, who lie 10th in the Premier League, albeit just six points off top spot.
Hamann was reportedly sounded out by his fellow German regarding a possible move to Anfield and said: "The emotions in Liverpool need to be awakened.
"People have lost faith in the team and it is important that someone comes in who rouses the people again and gets things going.
"Jurgen Klopp, who lives out his passion and love for the game, would fit wonderfully to Liverpool's mentality. He would be the ideal solution for me."
Can he fix Liverpool?
Dortmund academy coach Gordon is adamant his former colleague can.
He told BBC Radio 5 live: "With a team backing him, I think he'll be able to fix it in a short period of time, at least stabilise the team and be able to play at the level they're supposed to be playing at.
"He's like a Mr Motivator. He'll be able to open up the players' eyes and bring them to the next level.
"He gets on well with the young players and can help them develop."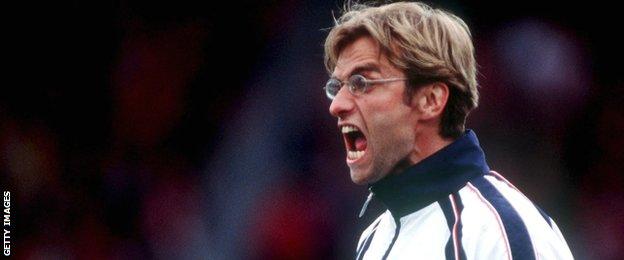 Is he always Mr Nice Guy?
Former Leicester City player Colin Bell, who worked with Klopp at German club Mainz between 2001 and 2005, told BBC World Service Sport there are two sides to Klopp's character and he should not regarded as a soft touch.
"He has a lot of charisma and obviously he can touch people," he said. "He can man-manage players very, very well and he's always had excellent tactics, so I'm sure Jurgen Klopp would be excellent at Liverpool.
"Kloppo has this reputation in Germany as happy and easy to get along with, but he's also a very hard worker on the pitch and if the players do not please him or do not do exactly what he wants them to do, then he can get stuck into them."
Can he handle pressure?
Dortmund struggled for much of the 2014-15 campaign and found themselves languishing near the foot of the table before a second-half surge saw them finish seventh and gain qualification into the Europa League.
Gordon added: "The whole system worked for him at Dortmund. Everyone was backing him.
"He was loved at Dortmund. He wasn't put under any pressure, he only placed pressure upon himself."