Jose Mourinho: Chelsea offer under-fire manager 'full support'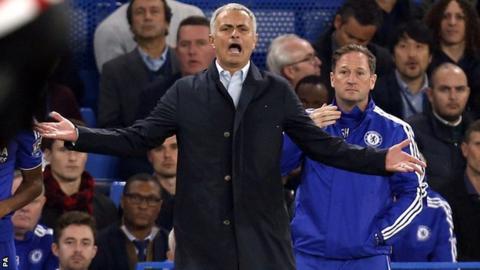 Chelsea have offered their support to manager Jose Mourinho after their worst start to a top-flight season since 1978-79.
Saturday's 3-1 loss to Southampton left the Premier League champions 16th with eight points from as many games.
After that defeat, Mourinho told Sky Sports that the club would have to sack him if they wanted him to leave.
"The club wants to make it clear that Jose continues to have our full support," read a short club statement.
"We believe we have the right manager to turn this season around and that he has the squad with which to do it."
After Saturday's home defeat, Mourinho said: "I want to make it clear. One, I don't run away.
"Two, if the club want to sack me they have to sack me because I am not running away from my responsibilities or my team."
Meanwhile, Blues captain John Terry says the 52-year-old Portuguese is the best person to help the club recover from their miserable start.
"If anyone is going to get us out of this hole it is going to be Jose Mourinho," said the 34-year-old defender.
"We have the best manager, who we remain behind, and we remain together."