Man Utd: Louis van Gaal is a 'communicator not a dictator'
Last updated on .From the section Man Utd
Manchester United boss Louis van Gaal says he is not a dictator after reports that many of his players were unhappy.
Wayne Rooney and Michael Carrick told him the dressing room mood was flat.
"That was alarming because they are the captains so I went to the dressing room," said Van Gaal. "Believe me, it is like that. I am not a dictator - I am a communicator."
Van Gaal said it was "positive" that captain Rooney and vice-captain Carrick had approached him.
The Dutchman added: "They told me to help me. I communicate not only with my captains, they try to warn me.
"I then go to my dressing room and discuss with my players and we discussed a lot of aspects - but not what some have written.
"Some players are coming to me to apologise about what has been said in the papers."
'Don't ask too much of Martial'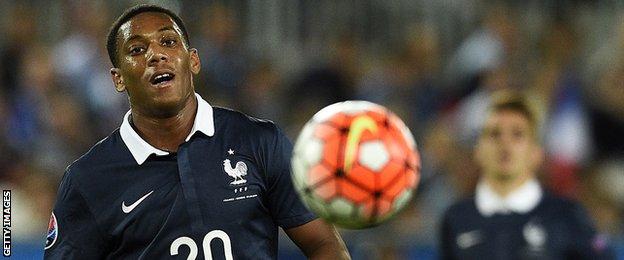 Van Gaal also spoke about the recent arrival of Anthony Martial. The 19-year-old French striker joined from Monaco in a deal that could be worth up to £58m.
"There is a market price and we cannot have any influence on that price," he said. "I said he is the best of his age and we need a striker for the future.
"I imagine the fans think, '£50m, he has to score.' No. He is 19 and he has to adapt."
Stressing the need to manage the expectations Martial will have to deal with at Old Trafford, Van Gaal highlighted the experiences of Angel Di Maria and Radamel Falcao.
Falcao scored four goals during a season-long loan spell at United last term while Di Maria was sold to Paris St-Germain at a loss just one year after joining from Real Madrid for a British record £59.7m.
"The pressure at United is much higher than at another club, so we mustn't give him too much pressure," Van Gaal added.
"You could see how Angel Di Maria and Radamel Falcao struggled. He must adapt to our culture and philosophy and that is difficult enough."
'Wilson can go to a Championship club'
Van Gaal shed more light on the futures of attacking duo Adnan Januzaj and James Wilson.
Belgium international Januzaj, 20, was sent to Borussia Dortmund on loan in the last window, while striker Wilson, 19, appears set for a spell at a Championship club. Derby County are one of reportedly several clubs to have shown interest in the England Under-21 international.
"I told Januzaj he would have opportunities at nine or 10, but decided it was better for him to go to a new environment, play more and see if he develops," added the Dutchman.
"I have said the same to James, but only to a Championship club, so I can call him back if one of my strikers gets injured."