Rangers & Ally McCoist reach contract termination agreement
Last updated on .From the section Football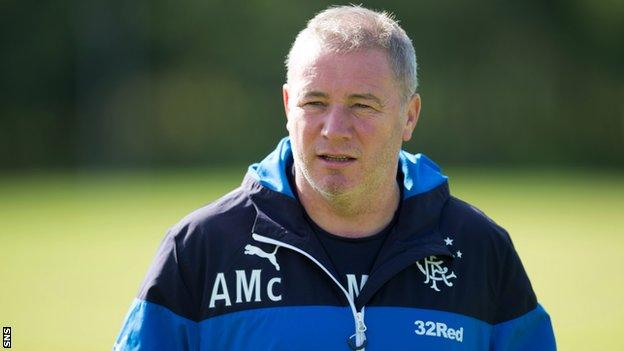 Rangers have reached agreement with former manager Ally McCoist over the termination of his contract.
McCoist, Rangers' record scorer as a player, succeeded Walter Smith as manager in 2011 and remained in post as the club faced insolvency problems.
"Most of all I want to express my gratitude to Rangers fans everywhere," McCoist said on the Rangers website.
"They were superb and they backed me and my staff.
"They also stood firm when their club was in dire straits and even at the bleakest moments they did not flinch.
"They are the heart and soul of this club and no-one should ever forget that. Quite simply they are the best."
The Scottish striker joined Rangers in 1983 following spells at St Johnstone and Sunderland and scored 382 goals over the next 15 years at Ibrox. He helped the Glasgow side win 10 league championships and 10 domestic cups.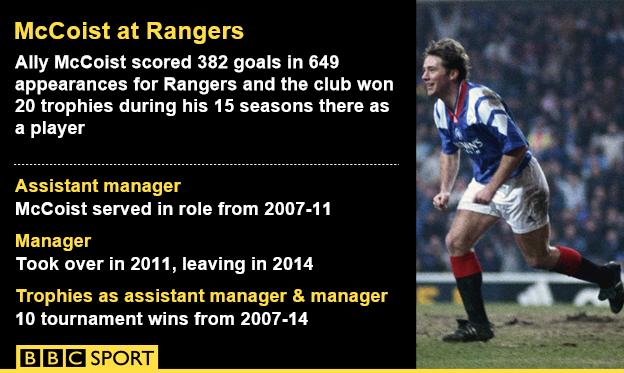 He ended his playing career with a three-year stint at Kilmarnock and also won 61 Scotland caps, scoring 19 international goals.
After assisting Smith during the latter's period as Scotland coach, McCoist moved into the same role at Rangers when Smith returned to Ibrox for a second spell as manager.
And McCoist took over as manager when Smith left, with Rangers having just won three successive league titles.
However, financial problems beset Rangers in the first season of McCoist's reign and they entered administration in early 2012.
After agreement could not be reached with creditors, the company moved into liquidation while the club moved into new ownership and were subsequently placed in the Scottish Third Division - the league's lowest tier - at the start of season 2012-13.
McCoist led Rangers to successive promotions but they struggled to compete with eventual title winners Hearts in last season's Championship.
He resigned in December, starting a 12-month notice period, and was soon placed on gardening leave as his assistant Kenny McDowall took charge.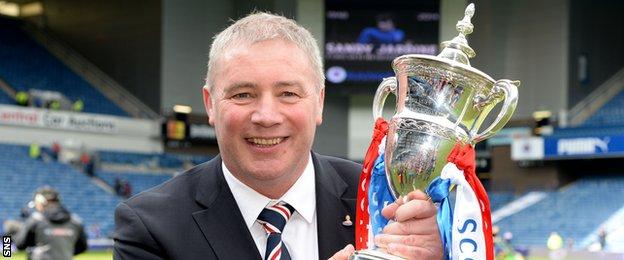 Championship leaders Rangers said in a statement: "Agreement was reached quickly during a meeting with Rangers chairman Dave King, who expressed his gratitude for the contribution Ally has made to the club both as a player and then manager.
"Ally, the club's highest ever goalscorer, took over as manager at the beginning of what turned out to be the most traumatic period in the club's long history.
"When the club's holding company entered administration and then liquidation, Ally stepped forward and became a figurehead in the struggle to keep the club alive.
"During this period Ally worked without pay and later also took a 50% salary reduction to help keep the club going. It was also Ally who stood up for the club when its lengthy list of honours was under threat."
Chairman King said McCoist "remains one of the most significant figures in this club's history".
"His contribution on and off the pitch should not be forgotten or devalued," he continued.
"Agreement could have been reached earlier but it has been difficult for us to get an opportunity to sit together and talk everything through.
"We have done that now and we are grateful for Ally's continued consideration for the club by accepting early termination - which he was under no obligation to do."
And McCoist added: "Without doubt managing Rangers was the greatest honour in my career. It was the dream job but in a nightmare scenario.
"I am absolutely delighted the club now has a stable board and that the good work off the pitch is being equalled by the performances on it."