Hearts: Robbie Neilson tries to keep table-toppers grounded

By Brian McLauchlin
BBC Scotland
Last updated on .From the section Football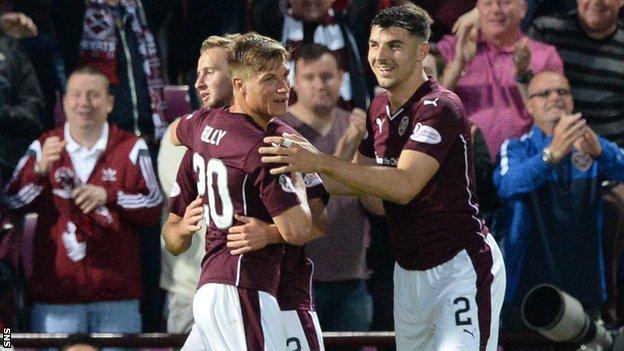 Hearts head coach Robbie Neilson believes it is wrong to compare the current squad with the team he was part of 10 years ago.
Neilson has steered promoted Hearts to the top of the Premiership by winning their opening three fixtures.
In 2005-06, the Edinburgh club won their first eight league games, going on to finish second in the top flight.
"We are miles away from that team," Neilson told BBC Scotland ahead of Saturday's visit to Ross County.
"That team had a Champions League winner [Edgaras Jankauskas] and a European Championship winner [Takis Fyssas] and just about every player was an international player so it's still got a long way to go to get near that.
"That team won the first eight games and were unbeaten in 12 or 13 games. If we can emulate that then great but we're still a long way off that.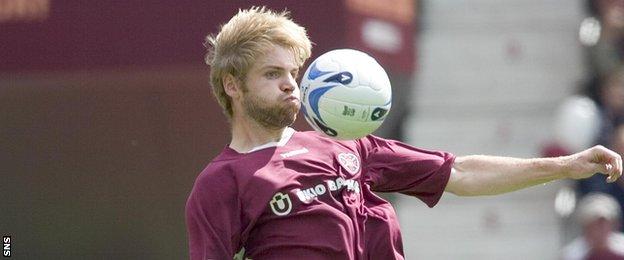 "We're three games in. We have to be realistic. It's just three games, that's it. We have still to play Celtic, Aberdeen, Dundee United and Ross County. Good teams so we are not getting carried away.
"We don't talk about it. We just have to concentrate on the next game. We've got targets we want to hit and we're miles away from it."
In his first season as a manager, Neilson ensured Hearts made an instant return to the top flight, winning the Championship by a 21-point margin.
This term opened with a League Cup victory over Arbroath, with league successes against St Johnstone, Dundee and Motherwell following.
"We've won the first four games of the season, it's going to create a good atmosphere about the dressing room or about the club with the fans so it doesn't matter what you did 10 years ago, it's what you're doing at the moment," added Neilson.
"[Playing Ross County on Saturday is] probably our hardest game yet. Coming back off two hard games with two days preparation before we travel up to Dingwall, which is the furthest destination we've got.
"They've got an extra day's prep than us. They're a good team who had a great end to last season."