Jersey Football Combination cups need 'streamlining', says Browne
By Brent Pilnick
BBC Sport
Last updated on .From the section Football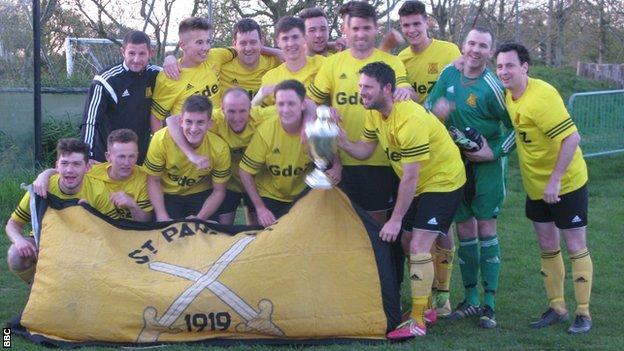 The new head of the Jersey Football Combination says the island's cup competitions need to be "streamlined".
First teams in both divisions play in four separate cup competitions, as well as their leagues.
The Jersey champions contest an extra cup, the Upton, against the Guernsey champions at the end of the season.
"The cups need to be streamlined - you end up with people winning cups by winning just a couple of games," Charlie Browne told BBC Sport.
On top of that many Jersey-born players also represent their parishes in the Trinity Shield, meaning a player could, in theory, win six cup competitions and a league title in one season.
Browne's former club, St Pauls, won the Upton, the Wheway Cup, the Charity Cup, the Le Riche Cup and the Jersey Premiership last season.
To begin with, Browne says August's Charity Cup, which is played for at the start of the season, should be moved to later in the year.
Cup competitions for Jersey football teams

Premiership
Championship

Le Riche Cup (All Jersey clubs)

Le Riche Cup (All Jersey clubs)

Wheway Cup (Jersey FA-organised inter-island competition with Guernsey)

Touzel Trophy (All Championship clubs)

Jeremie Cup (Guernsey FA-organised inter-island competition with Guernsey)

Willis Cup (Championship clubs and reserve teams from Premiership clubs)

Charity Cup (All Jersey clubs)

Charity Cup (All Jersey clubs)

Upton Park Trophy (Jersey champions v Guernsey champions)
"If one team gets knocked out early, their next decent football action won't be until the second week of September, while if you have success you have a good pre-season and you hit the ground running," he said.
"It's unfair - one game, you're knocked out and you're not doing anything for five or six weeks.
"Let's put it somewhere else in the fixture list. We don't want to discard it, let's get our season started early, we know we could have some bad weather in the winter, so if we play earlier we'll have some good sets of fixtures in.
"Last year by October some Premiership teams had only played three games."
Browne, who succeeded Tim Darwin after 14 years at the helm of the organisation, has already changed the structure of the league for the forthcoming season.
All 16 clubs will play each other once in one division before the top and bottom eight split to form the Premiership and Championship.