Tom Bradshaw: Walsall striker extends contract with Saddlers
Last updated on .From the section Walsall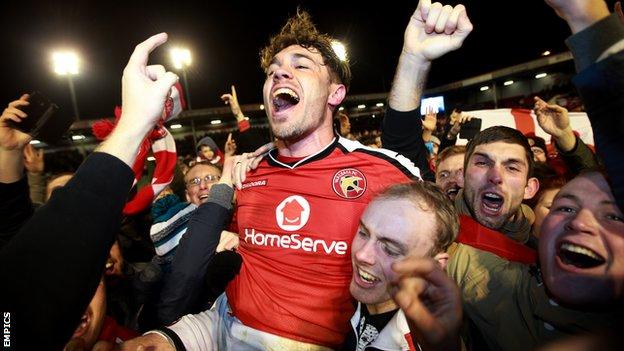 Walsall striker Tom Bradshaw has signed an extended deal at the League One club until the end of the 2016-17 season.
Signed from Shrewsbury a year ago, he hit 20 goals in 37 outings in his first season, helping Walsall reach Wembley for the first time in their history.
He was frustrated by a succession of hamstring injuries but hopes that can be addressed by an exercise regime mapped out for him over the summer.
After missing 17 of Walsall's 46 League One matches, Bradshaw hopes that club physio Jon Whitney's personal training schedule over the close season will pay long-term dividends.
"Whits has put together a great schedule to stick to over the summer," the former Wales Under-21 international told BBC WM. "It involves a lot of hamstring strengthening.
"We're doing loads of minor tweaks, to improve my flexibility, including getting some insoles for the bottom of my feet to cancel out a leg-length issue I've got and that will hopefully give me an injury-free season.
"It was a great year for me personally last season and there is no reason why, with the amount of potential in that dressing room, we can't be challenging for the play-offs. It's just a matter of being more consistent."