Liverpool: Firmino deal shows club are learning from mistakes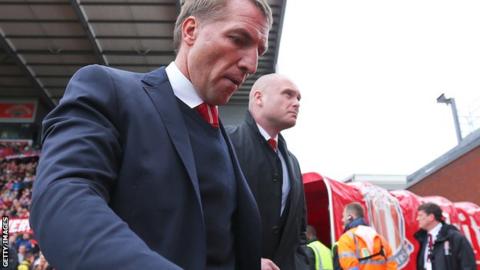 Liverpool manager Brendan Rodgers faces the biggest summer of his career - backed by owners Fenway Sports Group, but in the knowledge a slow start to the new season could cost him his job.
And the stakes for Liverpool as a club are not much lower. This time last year they were reflecting on a brilliant season that almost won them their first title in 24 years, but at least brought a return to the Champions League.
It was then, exactly a year ago, talisman Luis Suarez bit Italy's Giorgio Chiellini while playing for Uruguay at the World Cup, setting off a series of events that led to a £75m move to Barcelona and the subsequent squandering of much of that money on inadequate purchases.
Liverpool are now attempting to recover from a season of disappointment that ended with a 6-1 defeat at Stoke, the first time they had conceded so many goals in the league in 52 years.
Since Rodgers was backed by the board, Liverpool have been active in the transfer market, the latest signing being the £29m purchase of Brazil forward Roberto Firmino from Hoffenheim.
So will things be any different this time around?
Liverpool's show of intent
Liverpool's determination to put down a marker can be seen with the purchase of 23-year-old Firmino, who will become the second most expensive signing in their history in the wake of the frivolous spending of £35m on ill-fated striker Andy Carroll in 2011.
And the fact that Liverpool have done the big deal early - and without complications - will act as a morale-booster to everyone at the club, including fans who were left in despair at the end of last season.
Their determination to do the deal for a player who had been linked with Manchester United and others across Europe can be seen by chief executive Ian Ayre being dispatched to Chile to swiftly finalise negotiations to ensure it got over the line.
The view from South America: Analysis from Tim Vickery
When Roberto Firmino was first called up by Brazil, very few of his compatriots knew anything about him. I did a Brazilian TV show as recently as March when the presenter said that Firmino could pass unnoticed down almost any high street in the country.
The 23-year-old is part of a growing community of Brazil internationals who develop their careers abroad and get into the squad despite being little known by their own public.
He comes from Maceio in the poor north east of Brazil, and after starring in a youth tournament was picked by Figueirense at the other end of the country.
The south of Brazil is often scoured by German scouts. The region has many German immigrants and, as a teenager, Firmino did well enough in the second division to earn a transfer to Hoffenheim.
He has subsequently developed well enough to get him on Brazil coach Dunga's radar. And four goals in his first nine internationals (coming off the bench in five of them) is a promising start to his Brazil career.
Liverpool have suffered in the past when big targets such as Diego Costa, Willian and Henrikh Mkhitaryan have been spirited away to other clubs despite strong interest from Anfield - this time there were no mistakes.
Firmino may or may not work out - but at least there has been no lack of haste or decision. The transfer has been conducted in the manner of a club that means business.
The forward, who featured in 33 of Hoffenheim's 34 league fixtures in each of the last three seasons, has recorded 21 assists over the last two seasons, more than any other Brazilian in the top five European leagues.
He is already Liverpool's fifth signing of a busy close season so far, a period in which manager Rodgers must not only replace departed captain and icon Steven Gerrard, but also rediscover the goals that went missing last season with Suarez departed and Daniel Sturridge almost permanently injured.
This is the first instance of big spending this summer at Anfield, but Liverpool have shown determination in persuading James Milner to leave Manchester City to add experience, reliability, consistency, versatility and good character to their squad.
Charlton's highly-promising defender Joe Gomez is another arrival in a £3.5m deal but he is firmly one for the future and may well be loaned out after his signing to gain experience.
England Under-21 striker Danny Ings will cost around £6m at a tribunal but that deal for the Burnley player is one that will also please Rodgers as he saw off interest from Real Sociedad and Spurs, while Adam Bogdan's arrival from Bolton will provide back-up for goalkeeper Simon Mignolet.
Ings will bring energy and hopefully goals, a young, driven forward determined to succeed at the highest level.
Lille's young Belgium international Divock Origi, 20, is expected to arrive at Anfield this summer after going back to the French club last season on loan, so Rodgers appears to be addressing a problem that caused his team to suffer - their lack of goals last season.
Firmino will add further creativity and the fact that he was successful in the Bundesliga with Hoffenheim will add to the optimism he will flourish in the Premier League.
So far so good - but the only true verdict will be delivered on the pitch and a lot more remains to be done before Liverpool can think of challenging the top four again.
Firmino facts
Roberto Firmino Barbosa de Oliveira started his career at local team Clube de Regatas Brasil before moving to Tombense and then Figueirense in Brazil's Serie B
Scored his first goal for Hoffenheim in a 1-0 win against Eintracht Frankfurt, four minutes after coming on as a substitute in April 2011 - two months after his debut
Dropped for a match against Bayer Leverkusen in November 2011 after arriving late for training a number of times
Named Germany's 'breakthrough player of the season' after 22 goals in 37 matches - and 12 assists - in all competitions in the 2013-14 season
Has a variety of tattoos including the name of his daughter Valentina Firmino emblazoned across his chest below a Greek slogan
Made his international debut in a friendly against Turkey on 12 November 2014 and six days later scored his first international goal in a 2-1 win against Austria
Is this the end of Sterling's time at Anfield?
Firmino's arrival simply adds to the sense of inevitability surrounding Raheem Sterling's departure.
With Firmino's Brazil team-mate Philippe Coutinho already at Anfield and with the likes of Jordon Ibe developing and another striker likely to come in, this deal bears all the hallmarks of preparing the ground to accept a third offer for Sterling from Manchester City.
The expected third bid will be nearer to Liverpool's £50m valuation and will surely be accepted to end a bitter, badly-handled episode that will see a 20-year-old once touted as the future of Anfield head to the Etihad.
It will mean some of the toxic air that has developed around Sterling and his contract impasse will clear - and Liverpool can finally move on from this distracting sub-plot.
BBC Sport's Ben Smith
"Raheem Sterling remains as determined as ever to leave Liverpool this summer and Manchester City remain the most likely club to buy him. Liverpool have been keen to make a statement of intent, not just to Sterling but the rest of the Premier League and they believe the recruitment of Firmino has done just that. And yet, it increasingly feels like a matter of when, and not if, Sterling leaves Liverpool.
"The relationship between player and club remains strained and Liverpool have all but given up on attempting to discuss a new contract with his agent Aidy Ward. While publicly Liverpool will never admit it, the arrival of Firmino is likely to pave the way for the departure of Sterling."
FSG backing Rodgers
Liverpool's owners conducted a strenuous and frank review of Liverpool's season that saw them fade horribly, lose lamely in the FA Cup semi-final to Aston Villa, drop out of the Premier League top four then conclude business with arguably their worst performance of the modern era at the Britannia.
Throw in a poor Champions League performance that saw them exit from a favourable group before the knockout stage and Rodgers was not speaking from a position of strength in his review with FSG.
It cost the jobs of Rodgers' right-hand man Colin Pascoe and coach Mike Marsh - but FSG continued to back their manager and resisted the temptation that suddenly arrived in the shape of Jurgen Klopp when he announced his departure from Borussia Dortmund.
And with the outlay on Firmino and the signings of Milner, Ings and with others to come, they are continuing to back Rodgers' judgement in the market, aided and abetted by the now notorious Liverpool "transfer committee".
The backdrop to this, however, is that these deals must all work, and work from the first whistle for Rodgers, otherwise the temptation FSG resisted at the end of last season may become too much to ignore a second time around.
Who comes next?
Rodgers would like to add another big-name striker to add to those already brought in to act as a safety measure against the seemingly ever-present threat of injury to the man who would be his first choice, Sturridge.
Aston Villa's Christian Benteke tops Liverpool's wish-list, but the £32.5m get-out clause contained in his contract is regarded as highly prohibitive and has forced Rodgers to cast his net around.
If Villa can be persuaded to drop that price, unlikely at this stage, Rodgers will move in to try and do a deal but alternatives such as Sevilla's Colombian striker Carlos Bacca, who scored 28 goals last season including two in the Europa League final win against Dnipro, and Zenit St-Petersburg's Venezuelan Jose Salomon Rondon are being considered.
What is certain is that Rodgers will strengthen his striking resources further.
BBC Sport's Ben Smith
"Benteke remains a clear and genuine target for Liverpool. The stumbling block at present is the fee. But with the Belgium international not planning to sign a new deal, there may be room for negotiation further down the line, although Villa continue to insist they will not sell unless Benteke's clause is met. Watch this space."
Will it all work?
It has to - for the sake of Brendan Rodgers' long-term future. He will know that as well as anyone.
And the signs are that Liverpool have learned from the catastrophic mistake of last season when their failure to sign Alexis Sanchez, who rejected them for Arsenal when moving from Barcelona, appeared to leave them without a "Plan B" in their search for a striker.
Rickie Lambert now appears little more than a token signing and the result was a last-minute scramble in the summer of 2014 that left them with the choice of a panic buy in Mario Balotelli or nothing at all.
Despite all the previous evidence they went for the panic option in the unreliable Balotelli, with inevitable results.
It is a situation their early activity suggests they are keen to avoid again - but Liverpool still need to do more and the only proof of its success will start to come when they return to the scene of that 6-1 nightmare at Stoke City on the first day of the new season.